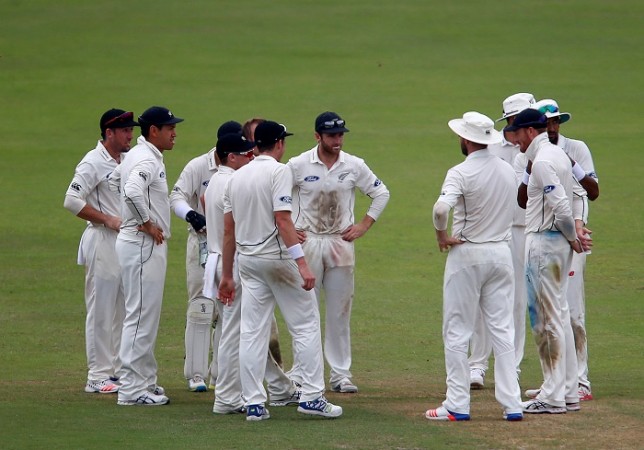 India might have thrown away the advantage they had after the first three hours of the opening day of the first Test against New Zealand, but they are still in a decent position in this match. With nearly 300 runs on the board, on a wicket that will only get more difficult to bat on, India will know a few more runs by the final-wicket pair and then a solid bowling performance and they could end up being on the right side of this Test match come the end of Day 2 in Kanpur.
However, as New Zealand have shown, they have this propensity to just not go away. Every time you think they are down and out, they find a way to come back, much like they did, turning things around brilliantly from 154/1 to 291/9.
Get the Day 2 score and report HERE
As well as New Zealand bowled during the final three hours, though, India must take a lot of the blame themselves, because the manner in which some of the batsmen got out was perfectly avoidable. What cannot and should not be done is give a team like New Zealand a way into the game, because they have the ability and talent to take full advantage, like they did in the second half of day one.
Five batsmen scored 30 runs or more in the first innings for India, and none of them even got close to a century, with the highest scorers being Murali Vijay and Cheteshwar Pujara with 65 and 62 respectively.
That is just not good enough for a top-level team like India, especially after they had the advantage of winning the toss and batting first on a wicket that will wear as the match goes on.
However, what is done is done and what India need to do is look at the 291 on the board in a positive manner, understand that it is not a bad score on this wicket – a real tester for all parties – and make sure the bowlers come and do their jobs to a T when their turn to field comes.
New Zealand will be buoyant after their brilliant comeback from a position where, at one point, India looked like scoring well over 400, and the key for them will be to take that momentum and carry it to their batting.
India will test the Kiwi batsmen, no doubt, but if the away side can weather the spin storm, especially considering the home team only went in with two slow bowlers, then New Zealand could find themselves in a position of real strength.
Where to Watch Live

India vs New Zealand Day 2 of the first Test is scheduled for a 9.30am IST (4pm NZT, 5am BST, 12am ET) start. Live Streaming and TV information is below.

India: TV: Star Sports 1/HD1 and Star Sports 3/HD3. Live Streaming: Hotstar.

New Zealand: TV: Sky Sport 3. Live Streaming: Sky Go NZ.

UK: TV: Sky Sports 2. Live Streaming: Watch Sky Sports.

Canada, USA: TV: Willow TV. Live Streaming: Willow TV Online.

Middle East: TV: OSN Cricket. Live Streaming: OSN Cricket Live.