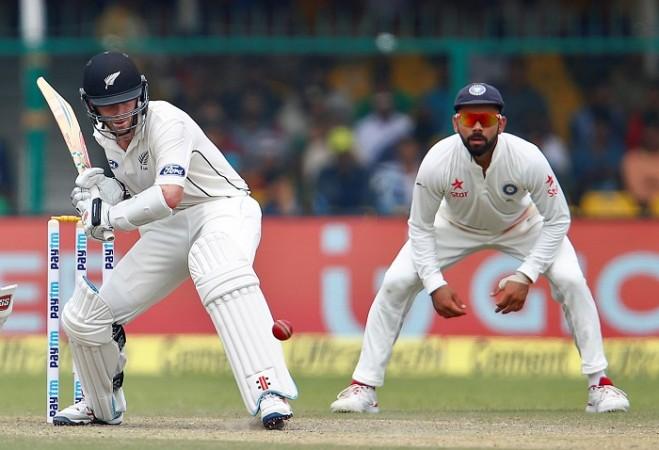 Kane Williamson, such a wonderful player, and Tom Latham put New Zealand in a strong position after Day 2 of the first Test match against India in Kanpur. Replying to India's first innings total of 318, New Zealand's captain and opener put on an unbeaten century partnership, barely looking troubled as India's spin duo of R Ashwin and Ravindra Jadeja huffed and puffed without any success.
New Zealand currently trail India by 166 runs after ending the second session of the second day on 152/1 in 47 overs – just as the players walked out for Tea, the covers came on for a bit of drizzle, which then turned into reasonably heavy rain, which in turn forced the end of the day's play without any play possible in the final session.
Martin Guptill, the man whose position at the top of the order was a cause for much debate, is the only Kiwi batsman out, with Umesh Yadav, the fast bowler, picking up the opener's wicket.
Guptill (21, 31b, 3x4), for the most part, looked pretty comfortable, playing a couple of nice shots, including a thumping sweep shot off Ravindra Jadeja. However, his temperament and ability to just defend has always been suspect in the longest form of the game, and Yadav caught the opener off guard with a ball that tailed in, trapping him in front of the wicket as a result.
However, New Zealand kept their cool, with Tom Latham (56 batting, 137b, 5x4) and Kane Williamson (66 batting, 115b, 7x4) staying strong and looking quite good while doing it as well in their unconquered 117-run partnership.
The worry for India was that the spinners just did not trouble the two batsmen enough, that too despite Ashwin having the option of bowling to the left-handed Latham and Jadeja to the right-handed Williamson.
There were a couple of close moments here and there of course, with the closest of them being when Latham survived a catch at short leg, after the ball bounced off his boot and sprung up to KL Rahul, with the not out button pressed by the third umpire owing to the fact that the India fielder fumbled his catch and only grabbed it after the ball hit his helmet's grill.
While the wicket is still fairly decent for batting, Ashwin, in particular, did not put the ball in the right areas often enough – there were signs of him coming back to his old self just before Tea – and that is something the off-spinner will need to improve on when he comes back on Day 3. India must stay patient and not get too frustrated, because, as the Kiwis showed in the India batting innings, one dismissal is all it takes for that wicket-train to get up and running again.
Earlier, New Zealand stayed patient early in the morning, with Ravindra Jadeja and Yadav adding 41 runs for the final wicket, runs that could prove to be quite crucial. Starting the morning on 291/9, Jadeja played really well, taking the bulk of the strike and making good use of it as well, rather than just blocking.
The all-rounder's unbeaten 42 (44b, 7x4, 1x6) would have frustrated New Zealand, who got the final wicket, when Neil Wagner strangled Yadav (9, 27b, 2x4) down the legside, and only time will tell how precious those runs will prove to be for India in the end.
Bowling: India: Mohammed Shami 8-1-26-0; Umesh Yadav 7-2-22-1; Ravindra Jadeja 17-1-47-0; R Ashwin 14-1-44-0; Murali Vijay 1-0-5-0.

Fall of wickets: India: 42/1, KL Rahul (11 overs); 154/2, Cheteshwar Pujara (48.4 overs); 167/3, Virat Kohli (51.3 overs); 185/4, Murali Vijay (58.1 overs); 209/5, Ajinkya Rahane (64 overs); 261/6, Rohit Sharma (83 overs); 262/7, Wriddhiman Saha (83.5 overs); 273/8, R Ashwin (85.5 overs), 277/9, Mohammed Shami (87.1 overs), 318/10, Umesh Yadav (97 overs).

New Zealand: 35/1, Martin Guptill (9.3 overs).