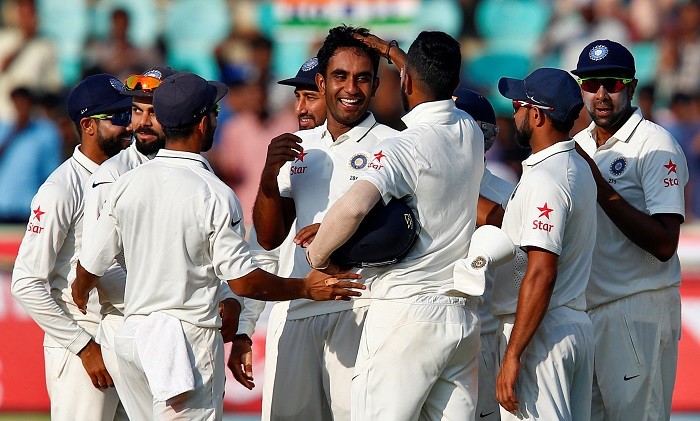 India have made the running from the beginning in the 2nd Test match in Visakhapatnam, and Virat Kohli's side will want to continue in the same vein, with England facing a tall task with the bat on day three. Having posted a strong first innings total, India took five England wickets to put the away side in a real spot of bother.
If England are to rescue this game, they will need that strong lower order of theirs to come to the party, again. Currently, at 103/5, with a deficit of 352 runs, England need Ben Stokes and Jonny Bairstow, the two batsmen at the crease, to put on a long partnership in the morning, afternoon and final session.
If England are to get anything out of this match, they will need their two in-form batsmen to forge a really big partnership. Stokes and Bairstow showed good defences in the final session on day two, playing 49 and 46 balls respectively for just 12 runs each, but they will need to make sure they don't get too bogged down on Saturday.
The lesser runs that are scored, the more attacking fields Kohli can place and the more pressure the spinners can exert. So, making sure they stick to their natural game will be essential, but without playing any rash shots.
That is going to be really difficult, especially considering the purchase the spinners are slowly, in more ways than one, but surely getting out of the pitch. R Ashwin spun a few balls and beat both edges of the bat, while Jayant Yadav was quite good on Friday, showing no signs that he was making his Test match debut and had played a total of one international match before coming into this game.
Ravindra Jadeja has not picked up a wicket yet, but has posed a threat and with a right-hander in Bairstow at the crease, he could cause a few alarms.
As much as the pitch is starting to wear and tear, India need to understand that this is still quite a slow wicket, which means the batsmen have time to make the adjustment even if the ball misbehaves. Patience will be key, while Kohli and the senior bowlers also need to make sure they make the right field placings. Putting in defensive fields early, when England are in such a position will not help, so Kohli needs to be a little more bolder, rather than pushing a man to deep cover or long-on, the moment Bairstow and/or Stokes hit a few boundaries.
Where to Watch Live
India vs England second Test, Day 3 is set to begin at 9.30am IST (4am GMT, 11am ET). Live Streaming and TV information is below.
India: TV: Star Sports 1, Star Sports HD1, Star Sports 3, Star Sports HD3. Live Streaming: Hotstar.
UK: TV: Sky Sports 2. Live Streaming: Watch Sky Sports and Sky Go.
Middle East: TV: OSN Sports Cricket. Live Streaming: OSN Cricket Live.
New Zealand: TV: Sky Sport 2. Live Streaming: Sky Go NZ.
US and Canada: TV: Willow TV. Live Streaming: Willow TV Online.
Australia: TV: Fox Sports 1. Live Streaming: Foxtel.