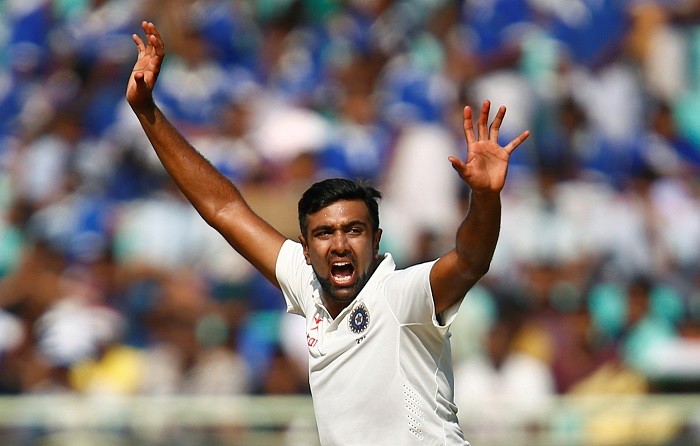 India were sloppy in the field again, missing chances, giving away overthrows, going for an outrageously ridiculous review and, for a while, England were brilliant with the bat, with Ben Stokes and Jonny Bairstow showing the rest of the batsmen how they should play on this Visakhapatnam wicket. Then, Umesh Yadav broke the partnership just before Lunch, before R Ashwin came to the fore in the second session to help bowl England out for 255, giving India a big lead and control in this 2nd Test match.
The fact that the wicket in this second Test is still pretty decent for batting helped Stokes and Bairstow, with the ball, apart from the odd one, hardly turning and the uneven bounce considerably negligible as well, but the manner in which the two England batsmen went about their business was impressive.
Having played 49 and 46 balls respectively for just 24 runs combined to end day two, Stokes and Bairstow, who had an injury scare when he just seemed to turn his ankle while walking onto the field in the morning, showed a lot more scoring intent on day three morning, and they were helped out by India's sloppiness in the field and a poor review – when they went up for an lbw after the ball had only hit the bat/gloves, leaving the home team with no reviews.
Wriddhiman Saha, who dropped two catches off Stokes in the last Test match, gave a life to the England all-rounder again, missing a stumping opportunity. After Ashwin beat Stokes' bat with a beautiful off-spinner, which also saw the batsman out of his crease, Saha failed to gather the ball cleanly, and by the time he could consider breaking the stumps, Stokes was back in.
Stokes was only on 21 at the time and the England score was 125, so it was a costly miss. Saha, as much as everyone wants to believe he is the best pure wicketkeeper in India, is already making too many mistakes for comfort and with that reliability in batting still not quite there, these are the sort of errors India cannot afford.
England took full advantage of that miss and with the bowling getting a little ragged, Bairstow and Stokes took full control, barely looking troubled, before Umesh Yadav, courtesy a reverse in-swinging yorker castled Bairstow (53, 152b, 5x4), which ended a brilliant stand of 110 runs.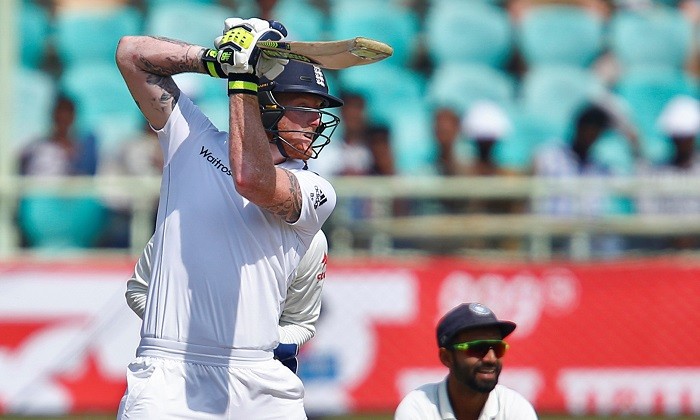 From there it was always a matter of when India would bowl England out, even after Stokes and Adil Rashid (32, 73b, 6x4) put on a decent partnership to frustrate Kohli a little further.
Ashwin broke that partnership by taking the crucial wicket of Stokes, who was trapped in front of the wicket or caught bat-pad at silly point, depending on how you viewed the replays. After the umpire gave it out for lbw, Stokes asked for a review, and while the replays suggested there was an inside edge, the third umpire Chris Gaffney decided there wasn't conclusive enough evidence of one and with the ball crashing into the stumps, stayed with the on-field umpire's decision.
Either way, Stokes (70, 157b, 11x4) was out, but had he not been caught by Cheteshwar Pujara a silly point, the DRS would have come under fire again.
Zafar Ansari then was trapped in front by Ravindra Jadeja, before Ashwin picked up Stuart Broad and James Anderson off consecutive deliveries to complete his five-for, his 22nd in Tests, and end the England innings.
India expectedly came into bat and went into tea on 8/0 in six overs, before losing three quick wickets in the final session. Murali Vijay (3, 25b) and KL Rahul (10, 31b, 2x4) both fell to Stuart Broad, one off the inside edge and the other off the outside, with Cheteshwar Pujara (1, 24b), who scored a century in the first innings, falling prey to a wonderful in-swinger from James Anderson, whose mastery in these conditions was on view again.
Kohli's mastery was also evident, with the India captain, even with the pitch getting lower and lower, batting beautifully. With the England bowlers needing to bowl at the stumps owing to the uneven bounce, Kohli, who has scored at least a half-century every time he has batted in Visakhapatnam, picked them off for runs.
Rahane (22, 54b, 2x4), who needed a few runs to get going in this series, stuck around with Kohli (56, 70b, 6x4) fairly well, with the captain and vice-captain allying for 58 runs together. That took India to 98 for three in 34 overs at stumps.
Scores: First innings: India: 455 all out in 129.4 overs.
England: 255 all out in 102.5 overs.
Overnight score: 103/5 in 49 overs.
First innings lead: 200 runs for India.
Second innings: India: 98/3 in 34 overs, overall lead 298.
Bowling: First innings: India: Mohammed Shami 14-5-28-1; Umesh Yadav 18-2-56-1; Ravindra Jadeja 29-10-57-1; R Ashwin 29.5-6-67-5; Jayant Yadav 12-3-38-1.
Second innings: England: James Anderson 8-1-16-1; Stuart Broad 6-5-6-2; Adil Rashid 12-1-37-0; Ben Stokes 5-0-25-0; Moeen Ali 3-1-9-0.
Fall of wickets: First innings: England: 4/1, Alastair Cook (2.3 overs); 51/2, Haseeb Hameed (21 overs); 72/3, Ben Duckett (27.3 overs); 79/4, Joe Root (31.5 overs); 80/5, Moeen Ali (34.2 overs); 190/6, Jonny Bairstow (78.3 overs); 225/7, Ben Stokes (90.4 overs); 234/8, Zafar Ansari (94.1 overs); 255/9, Stuart Broad (102.4 overs); 255/10, James Anderson (102.5 overs).
Second innings: India: 16/1, Murali Vijay (8.3 overs); 17/2, KL Rahul (10.1 overs); 40/3, Cheteshwar Pujara (16.5 overs).
Watch the highlights of Day 3 HERE