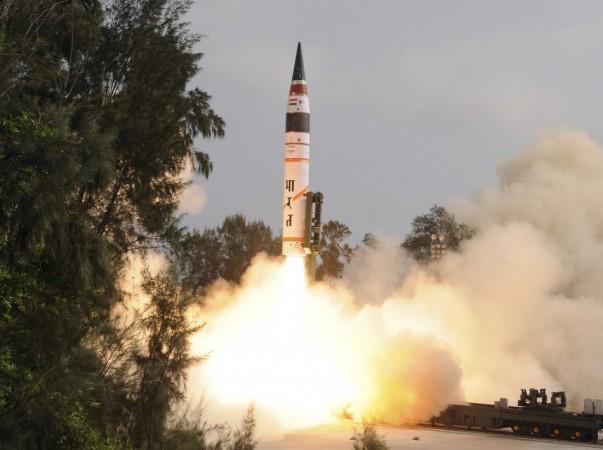 When India successfully test fired Agni-V, its first Inter-continental Ballistic Missile (ICBM) on Thursday (April 18), many see it as a strategic move by India to strengthen its military keeping China in mind.
The indigenously built Agni-V with a range of more than 5,000 kilometers (3,100 miles) can hit any target in China and penetrate deep into Europe. With it, India joins the elite nations that have Inter-continental Ballistic Missile capability. Till date, only U.N. Security Council permanent members China, Russia, France, the United States and the United Kingdom have ICBM capability.
Agni-V has made many to compare India's missile technology with that of its neighbour China, as the relationship between the countries was not cordial in the past. All eyes were on the reaction of the Chinese government on India's latest nuclear programme.
Du Wenlong, a researcher at China's PLA Academy of Military Sciences, told the Global Times that Agni-V has the potential to hit targets 8,000 kilometers away but the Indian government had deliberately downplayed the missile's capability in order to avoid causing concern to other countries.
Comparisons of the missile technology of the two Asia's superpowers is bound to happen every time one of them comes up with new or improvised nuclear programme, but statistics shows that China is superior to India in defence technology. China is believed to have around 240 warheads, out of which 175 are believed to be active whereas India is believed to have only around 100 warheads.
Here are the estimates from the United States Department of Defense 2010 report to Congress on China's military power.
CHINA
China Missiles
Type
Estimated Range
DF-5A (CSS-4) ICBM (Inter-continental Ballistic Missile)
13,000+ km
DF-31A ICBM (Inter-continental Ballistic Missile)
11,200+ km
DF-31 ICBM (Inter-continental Ballistic Missile)
7,200+ km
CSS-3 ICBM (Inter-continental Ballistic Missile)
5,400+ km
CSS-2 IRBM (Intermediate-Range Ballistic Missile)
3,000+ km
CSS-5 MRBM Mod 1/2 (Medium-Range Ballistic Missile)
1,750+ km
DH-10 LACM (Land-Attack Cruise Missile)
1,500+ km
CSS-6 SRBM (Short-Range Ballistic Missiles)
600 km
CSS-7 SRBM (Short-Range Ballistic Missiles)
300 km
Submarine Launched Ballistic Missiles
Type
Estimated Range
JL-1 SLBM (Submarine-Launched Ballistic Missile)
1,770+ km
JL-2 SLBM (Submarine-Launched Ballistic Missile)
7,200+ km
INDIA
India Missiles
Type
Estimated Range
Agni-V ICBM (Inter-continental Ballistic Missile)
5,000+ km
Agni-III IRBM (Intermediate-Range Ballistic Missile)
5,000 km
Agni-IV MRBM (Medium-Range Ballistic Missile)
3,000+ km
Agni-II MRBM (Medium-Range Ballistic Missile)
2,000 km
Agni-I SRBM (Short-Range Ballistic Missiles)
700 km
Shaurya TBM (Theatre Ballistic Missile)
700+ km
Prithvi-III SRBM (Short-Range Ballistic Missiles)
350 km
Prithvi-II SRBM (Short-Range Ballistic Missiles)
250 km
Prithvi-I SRBM (Short-Range Ballistic Missiles)
150 km
Brahmos I Supersonic Cruise Missile
290 km
Submarine Launched Ballistic Missile
Type
Estimated Range
K-4 SLBM (Submarine-Launched Ballistic Missile)
3,500 km
Sagarika (K-15) SLBM (Submarine-Launched Ballistic Missile)
700+ km