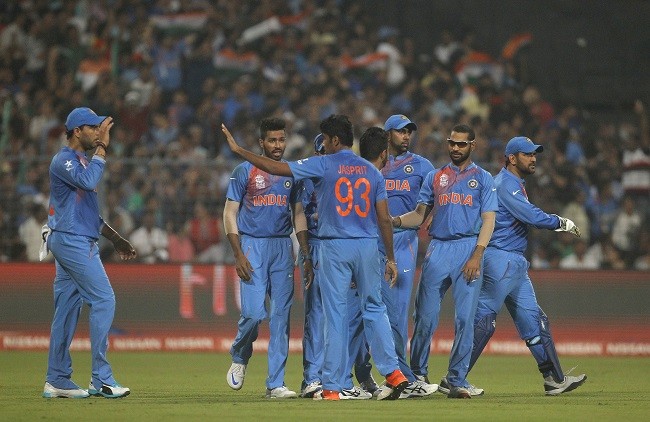 The customary World Cup victory over Pakistan out of the way, India cannot afford to rest on their laurels as they prepare to go up against Bangladesh in the ICC World T20 2016 Wednesday. With Group 2 looking quite tight, in terms of qualification for the semifinals, India cannot afford any slipups, something MS Dhoni will know quite well.
India were outstanding with the ball, again, against Pakistan, restricting them to a below par total, before Virat Kohli did what he usually does in a chase to take the home team through and earn them their first points of the World T20.
Next up is another Asian opposition in Bangladesh, who will be smarting from defeats to Pakistan and Australia. India, though, have the psychological edge over Bangladesh, having beaten them twice in the Asia Cup recently, and that too pretty convincingly. With the Chinnaswamy Stadium playing host to this crucial Group 2 encounter, expect that bat and ball battle to be dominated by the men wielding with willow.
All the talk after the Pakistan victory Saturday was Kohli and his ridiculous ability to control and finish off a chase. The fact that the Chinnaswamy in Bengaluru is Kohli's second home – he is the captain of the IPL franchise Royal Challengers Bangalore – will ensure that spotlight remains firmly perched on the India vice-captain.
As good as the win against Pakistan was, what cannot be overlooked is that problems still exist in the India batting order. While the bowlers have been consistently churning out one solid performance after another, the batting has not been as reliable. And that is something that will worry the skipper.
In fact, one of the first things Dhoni said in the post-match presentation was that there were still plenty of issues to sort out for India, despite a comfortable 11th World Cup win over Pakistan. While Bangladesh have been surprisingly below par in the main round of the World T20, they cannot be underestimated, particularly with the return of India's bête noir Mustafizur Rahman.
If India play sub-par cricket one more time, they just might end up on the wrong end of the result, as Australia so very nearly did, against Bangladesh at the same venue Monday.
Bangladesh will also feel they owe themselves a better performance, and with a capacity crowd set to cheer the opposition from ball one, that could be the atmosphere that might just inspire them to bring their A-Game.
Mashrafe Mortaza was roundly criticised for his captaincy in the Australia match, after the skipper gave himself a single over to bowl in the entire match. There was a little bit of a shirking-away-from-responsibility feeling after that match, the reason for much of the criticism levelled at the veteran, and what Mortaza cannot afford against India is another below par performance, where he fails to lead from the front.
It is always difficult for a captain to motivate a team when he himself is not performing, and grabbing the let's-perform baton and ensuring his players have someone to follow will be vital if Bangladesh are to keep their slim hopes of qualifying for the semifinals alive.
India vs Bangladesh schedule: Venue: Chinnaswamy Stadium in Bengaluru.
Date: Wednesday, March 23.
Time: 7.30 p.m. IST (8 p.m. BST, 2 p.m. GMT, 9 a.m. ET).
TV listings: India: Star Sports 1 and Star Sports HD1 (English commentary) and Star Sports 3 and Star Sports HD3 (Hindi commentary). Bangladesh: BTV. UK and Ireland: Sky Sports 2. Middle East and North Africa: OSN Sports Cricket HD. Singapore and Hong Kong: Star Cricket. Malaysia: Astro SuperSport. South Africa: SuperSport. US and Canada: Willow TV. New Zealand: Sky Sport. Australia: Fox Sports. Caribbean Islands: ESPN.