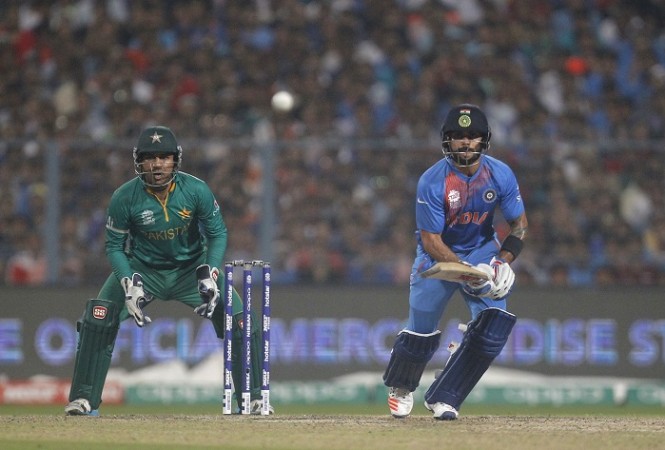 For the second time in a row, it looked like India might be undone on a rank turner. Three of the top four losing their wickets for nothing again, while chasing a low score in the biggest match of the all – against Pakistan – India were in deep, deep trouble in this ICC World T20 2016 match at the Eden Gardens in Kolkata. But then, when you have a player like Virat Kohli, someone who can make a difficult, high-pressure chase look like a Sunday morning stroll, you don't really have too much to worry about.
Kohli was ridiculous – no other word, just plain ridiculous – on a pitch that turned square and was slower than a snail and tortoise combined. The India vice-captain played a brilliant unbeaten 55 in just 37 balls to help India across the line, reaching the target of 119 with 13 balls and six wickets to spare, after Pakistan finished their first innings on 118/5 in 18 overs.
The match was reduced to just 18 overs a side after rain delayed the start of the match, and after the India bowlers did their bit with the ball, restricting Pakistan to a par(ish) at best total, Kohli, Yuvraj Singh and MS Dhoni did the rest.
It did not begin too well for India, as Rohit Sharma, Shikhar Dhawan and Suresh Raina all fell early, leaving India tottering on 23/3 in the fifth over. Rohit (10, 11b, 2x4) was the first to go, mistiming a lofted shot attempt off Mohammad Amir (3-1-11-1) to gift a catch to Shoaib Malik at cover.
A couple of overs later, India found themselves in real trouble, as Dhawan and Raina fell in two balls to Mohammad Sami. Dhawan (6, 15b, 1x4) was having one of those what-on-earth-is-he-doing night out, eating up deliveries left, right and centre, while never looking capable of getting out of the rut he found himself in.
So, it was little surprise when he played one on off Sami, with the fast bowler surprising the left-hander with his pace. The same was the case for Raina as well, with the No.4 getting out for a golden duck.
India were starting at another collapse, like the one against New Zealand, and to avoid that they needed a big partnership, and that is precisely what they got via Kohli and Yuvraj. Kohli looked comfortable on this not-a-batter's-paradise wicket from ball one, while Yuvraj hung in there, yet again.
These two batsmen were the ones who allied together crucially to help India to victory over Pakistan in the Asia Cup a month back, and this one was no different as the right and left-hand combination put on 61 runs together at just a shade over seven overs. That run rate, on this sticky wicket was outstanding, with Yuvraj (24, 23b, 1x4, 1x6) growing in confidence and showing his true worth with every passing ball.
Once Yuvraj fell, to an unnecessary shot, in the 12th over, India still needed 35 from 36 balls, but those runs were easily shot down by Kohli and skipper Dhoni (13, 9b, 1x6).
Earlier, Pakistan, like India, misread the pitch conditions, playing four fast bowlers instead of an extra spinner or two. But, after losing the toss, it would all depend on how the Pakistan batsmen fared, and they did not do too well, as the India bowlers took control.
Only Umar Akmal (22, 16b, 1x4, 1x6) and Shoaib Malik (26, 16b, 3x4, 1x6) really found anything resembling their boundary-hitting groove, and even if Dhoni made a couple of strange decisions – R Ashwin did not bowl out, despite spinning it square, while Hardik Pandya (2-0-25-1) bowled two overs with Yuvraj not even getting a bowl – India kept Pakistan to a score they knew they could chase down, you know, as long as Kohli scored. which he did.
Watch the highlights of India vs Pakistan match HERE