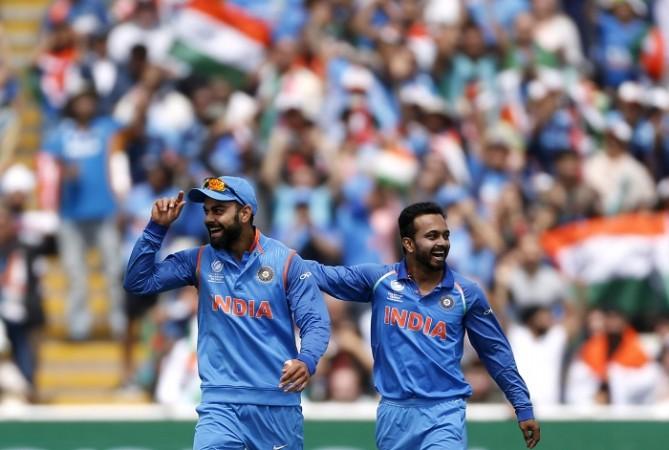 The shake of the head was on, there were a few stares as a few bad balls were bowled, the partisan India crowd was quiet and Virat Kohli and India were being put under pressure by Tamim Iqbal and Mushfiqur Rahim in a glorious partnership in this ICC Champions Trophy semifinal in Birmingham.
That pressure only increased when R Ashwin bowled a really poor over, conceding three boundaries, with that feeling of "if only Hardik Pandya had not overstepped, Tamim would have been out a long time back," lingering in the air.
It would have been easy for India to let that frustration at missed chances and a couple of in-form batsmen milking the bowling with ease get to them, but then Kohli thought "let's give the ball to the part-timer Kedar Jadhav and hope he finds a way to break the partnership."
In the first over from Jadhav, the 26th of the innings, there were no signs that either Tamim or Mushfiqur would be remotely troubled, with the two batsmen taking three singles each to take six runs from the over.
Jadhav's second over, though, was a lot better.
It began well with a couple of dot balls, and then he followed that up with two more dots off the fourth and fifth deliveries. Tamim, a little frustrated, went for a big slog-sweep. He missed and Jadhav hit, and just like that India had the wicket they needed, breaking a 123-run partnership.
Whenever a wicket falls, particularly after such a big alliance, the pressure falls back on the batting team, and that was the case as India put the squeeze on.
And when that squeeze is on, you usually get a couple more chances, with Ravindra Jadeja the man this time to get the wicket, the big one of Shakib Al Hasan, fresh from a century that brought Bangladesh into this ICC Champions Trophy 2017 semifinal.
With another wicket comes more pressure, and either the bowling team gets right on top of you or you get out of it by counter-attacking.
Mushfiqur, frustrated by the amount of dot balls, tried to do that, but only managed an ugly swipe, giving Jadhav his second wicket of the match.
With a spell of 6-0-22-2, Jadhav had done his job, and then some.
It was very Sourav Gangulyesque. Ganguly also had a habit of getting himself on and picking up crucial wickets, which gave him the moniker "the man with the golden arm." And Jadhav, with this performance and a couple against New Zealand last year, is slowly starting to earn that tag.
There is nothing better than having a man in the team, who has that knack of picking up wickets, and crucial ones at that, and Jadhav, with those two, brought India back into this semifinal, while ensuring the batsmen would not have an over-par score to chase down in such a high-pressure match.