Mitchell Johnson simply cannot distance himself from Virat Kohli and it seems, the retired Australian paceman's latest obsession with the Indian captain has resulted in a mini-spat on Twitter.
After India's narrow defeat to Australia in the first T20I at Gabba, a picture of Kohli and Marcus Stoinis emerged where the pair were seen smiling while shaking each other's hands. Stoinis is the newest acquisition for Indian Premier League franchise, Royal Challengers Bangalore. Kohli happens to captain that team and was perhaps greeting his new teammate.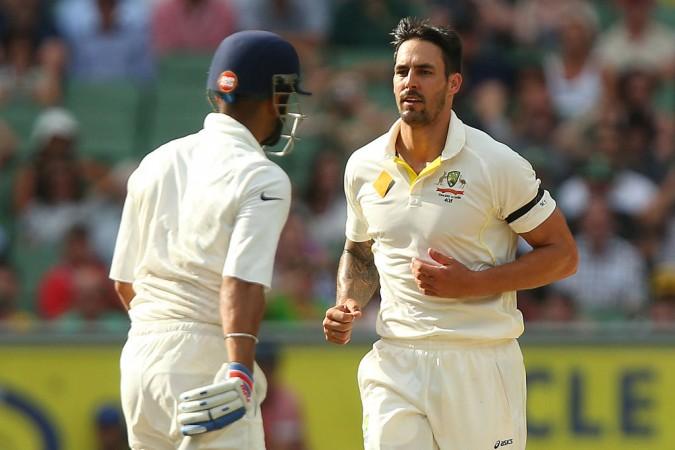 The International Cricket Council (ICC) posted that picture of Kohli and Stoinis on their Twitter account on November 23 and asked the fans to caption the image.
This tweet naturally garnered a lot of attention and Johnson chipped in with his own reply too.
How did you get big muscles Marcus ?

— Mitchell Johnson (@MitchJohnson398) November 23, 2018
But his reply did not please the Indian fans who quickly jumped to Kohli's defence assuming Johnson was taking an indirect dig at the batsman.
Pic 1 : Virat asking Mitch how much free time does he have on Twitter?
Pic 2 : Johnson be like - This much free time I've in my life to comment on everything.... Such a Nalla (Hindi word) ?
I know where this joke was intended at pic.twitter.com/1L7K4RYvmo

— Akshay Sharma (@akshaypasu) November 24, 2018
Johnson, perhaps vindicating the above person's claim, responded to him.
Do you read minds? It is intended for Marcus ??

— Mitchell Johnson (@MitchJohnson398) November 24, 2018
Yup I already said I know where the joke was intended at but Virat didn't need to ask it from Marcus ?
And I can read minds of a little number of people though ?? pic.twitter.com/KrSXBoRgz3

— Akshay Sharma (@akshaypasu) November 24, 2018
Another person quizzed Johnson on his penchant for Kohli.
Hahahaha mate you are always having a go at Virat ??What's the reason? Always find it funny?

— Abdullah Raja (@AbdullahRaja3) November 24, 2018
While this user felt Johnson is envious of the Indian captain.
Mitchell was a great bowler
Still remember his Ashes Series
But he seems to envy @imVkohli unlike typical Aussie

— Sarath Menon (@SarathMenon1) November 24, 2018
Besides the Johnson engagement, there were some funny replies to ICC's original tweet.
i will make vice captain for RCB if you dont perform well ??

— The Patriotic Indian (@swiftecho33) November 23, 2018
You've lost your RCB contract after that last over.

— ɱơıʑ (@yosoymoiz) November 23, 2018
Virat: tujhe next IPL khelna hai ya nahe... Last T20 se pehle decide karle. ????

— Deepak Sharma?? (@AlwysDPK) November 23, 2018