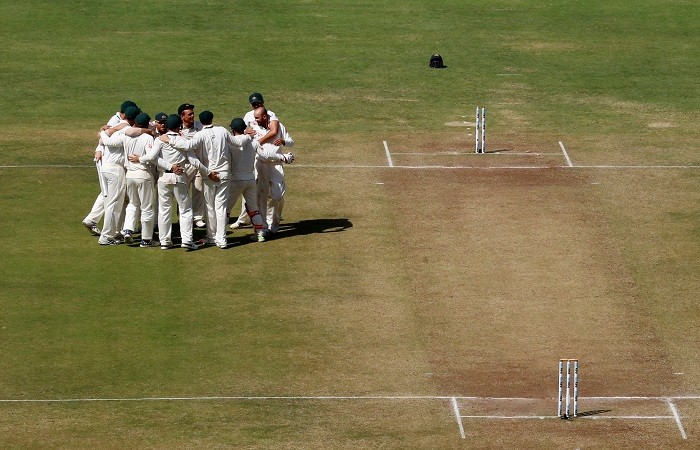 After the decision to make a turning pitch for the first Test against Australia spectacularly backfired, some salt was rubbed into the wounds of the BCCI, with the wicket in Pune getting a "poor" rating from the ICC match referee.
KSCA on pitch conditions for second Test
The first Test ended inside three days as Australia, who won the most crucial of things on such pitches – the toss – completed a 333-run victory.
That gave the Aussies a 1-0 lead in the four-match series and while India will now be wary of preparing such turning pitches, which offer spin from the first session, they will also be put off by the fact that the ICC have taken note, yet again.
After Nagpur was given a "poor" rating, following a match in which India beat South Africa in 2015, Pune has fallen victim, with the match referee Chris Broad not exactly taking a liking to the nature of the wicket.
Broad, in accordance with Clause 3 of the ICC pitch process, submitted his report. Clause 3 has a point which says the pitch will be termed poor if "the pitch offers excessive assistance to spin bowlers, especially early in the match."
That was the case in the first Test, with the slow bowlers getting turn from the first session of day one.
While the turn wasn't exactly alarming and the pitch was in no way dangerous, the poor rating will be needed to be answered by the BCCI, who will have 14 days to give a reply.
The ICC general manager Geoff Allardice and Ranjan Madugalle, the chief referee of the ICC, will be the ones who will review BCCI's reply, before taking a final decision.
If there is a penalty given for the pitch, because this will be Pune's first offence – this was the first ever Test match held at the MCA Stadium – there will only be a fine, not exceeding $15,000.
More than the monetary fine, it will be the damage done by the massive Australia victory that India need to recover from, starting with the second Test match in Bengaluru.