India was comprehensively beaten by Australia at Perth earlier today in the second Test match of the four-match Test series and a video has now emerged that all is not well within the Indian camp.
Chasing 287 to go 2-0 up in the series, the Aussies bundled the visitors out for 140 and levelled the series going into the Boxing Day Test match at Melbourne on December 26. But a video is now doing the rounds on Twitter where fast bowler Ishant Sharma can be seen engaging in a heated conversation with teammate Ravindra Jadeja.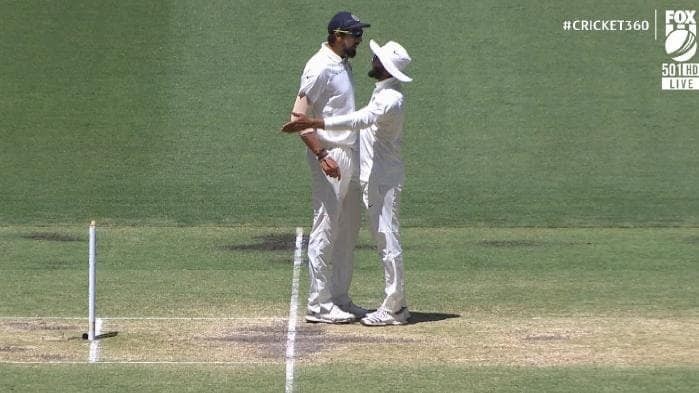 The incident seems to have taken place during a drinks break when Australia was batting in their second innings. The duo was seen having a rather animated debate where they were angrily pointing fingers in each other's direction.
The argument reportedly lasted for about 90 seconds but a clipped video of 45 seconds was uploaded on Twitter showing the fast bowler, Sharma, and substitute, Jadeja having a go at each other.
Ishant Sharma & Ravindra Jadeja were caught fighting & abusing on field yesterday. They were seen pointing fingers at each other in an animated argument. They were separated by Kuldeep & Shami. What's going on in Indian dressing room? #AUSvIND pic.twitter.com/j5fw5os0cD

— Abhishek Agarwal (@abhishek2526) December 18, 2018
"Look, who knows what they are talking about but it does seem pretty animated. There was lots of finger pointing. They were separated on a couple of occasions," Ricky Ponting said on commentary.
"They came back together again late and then Shami gets involved. He was just waiting at the top of his mark waiting to bowl. Things have, obviously, got a little bit heated between these two.
"Remember, Jadeja is just the substitute fieldsman. Ishant, probably in the middle of a bowling spell, might have wanted him at mid-off or mid-on - who knows what it was.
"Not just between Australia and India, but also looks like a little bit on in-fighting between the Indians," Ponting added.
This is not the first time Jadeja has been involved in an on-field verbal spat as he had engaged in a similar altercation with Suresh Raina in 2013.