Cheteshwar Pujara channelized his inner MS Dhoni on day 3 in Adelaide to overturn two DRS decisions and remain not out overnight to stretch India's lead to 166 with 7 wickets in hand.
The DRS is officially expanded as Decision Review System but a lot of fans in India call it the "Dhoni Review System" in humour because of the former captain's near-perfect record while challenging an on-field umpire's call.
The Indian Test team is not known to be too smart in their DRS calls, thus Pujara's successful referrals had a "Dhoniesque" feeling about it.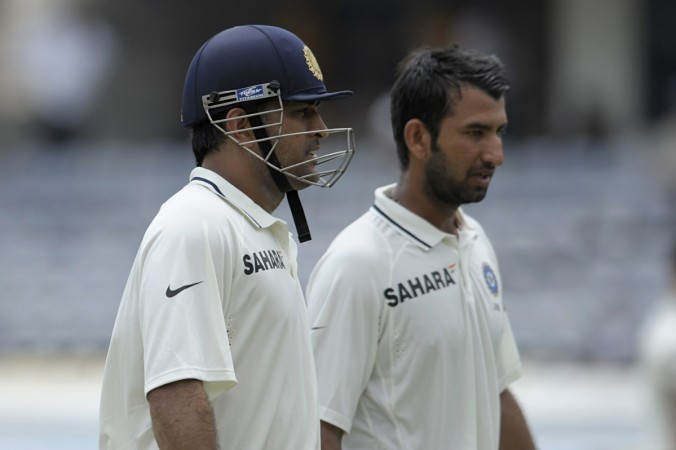 Pujara seemed to take off in the second innings from exactly where he left off in the first as he frustrated the Australian bowlers with his unflappable patience at the crease.
Nathan Lyon was expected to be a major deciding factor in India's second innings and he would have been, had Pujara's defence, front pad and DRS expertise not combined to thwart the off-spinner's threat.
The first of the two decisions to be overturned happened in the 24th over of the innings. Lyon bowled a straight one which Pujara tried to guide on the leg side but missed. Umpire Nigel Llong raised his finger following Aussie appeals. Pujara immediately walked down the pitch and in disbelief, reviewed the decision. As it turned out, nothing showed up on either 'Snickometer' or 'Hotspot'.
The second decision overturned courtesy Pujara's appeal for a review had the same protagonists as the first DRS – the bowler was Lyon and the umpire was Llong.
This time, the call from the umpire that was successfully referred by the Indian batsman was an LBW call. Pujara had come down the wicket and padded an off-break without offering a shot. Once again, he was dismayed at the umpire's call. The 30-year-old's belief in the turn on the pitch and the distance covered by his stride was vindicated as the third umpire, Chris Gaffaney ruled over the on-field umpire's decision.
It was a largely frustrating day for Australia until Lyon finally got his reward for persistence when he dismissed Virat Kohli late in the day ending his most patience Test knock ever. The Indian captain scored 34 at a strike rate of 32.69 to give Pujara able company.
The day ended with Pujara batting on 40 along with vice-captain Ajinkya Rahane at the crease.