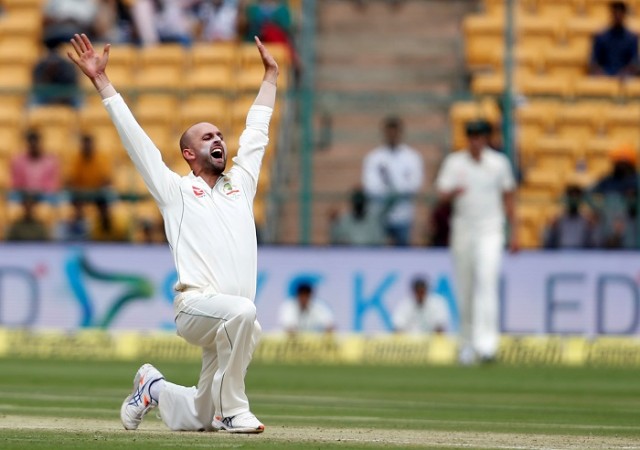 After Steve O'Keefe was made to look like a world-class bowler in the first Test, India decided to make Nathan Lyon look unplayable, and that too while playing the extra batsman and on a first day wicket in Bengaluru that offered plenty of turn and bounce, but not even remotely enough to justify getting bowled out for a paltry 189.
India got what they wanted by winning the toss and batting first, but they showed their vulnerabilities against spin yet again.
As Lyon got turn and bounce, India floundered and, once more, just could not cope, with the off-spinner finishing with eight wickets in the first innings – his eight for 50 is the best figures by an overseas spinner in India.
KL Rahul, the local boy, was the only one who showed any kind of ability to bat in such conditions, with the right-hander scoring a 90 (205b, 9x4) – a little more help from the other end, and India might have been able to make the score respectable.
Australia seem to be on their way to a respectable score, if not more, with the two openers – Matt Renshaw and David Warner – seeing off the 16 overs that remained in the day to take the visitors to stumps with all ten wickets intact.
The day, after the toss, did not begin well for India, with Abhinav Mukund, given the opening honours after Murali Vijay was ruled out of this Test match with a shoulder injury, unable to make any use of the opportunity, and falling for a duck.
After facing several balls without opening his account, and not exactly looking the most comfortable – understandable, considering he was playing his first Test match since 2011 – Abhinav (0, 8b) was done by a full, yorker-length delivery from Mitchell Starc.
That wicket gave Australia the start they were looking for, but KL Rahul, who began his innings by taking Starc for two boundaries in the first over of the Test match, and Cheteshwar Pujara steadied the ship, and while the going was a little slow – Pujara, especially did not show enough run-scoring intent – the 61 runs the pair added was just what India needed, after the Pune debacle.
What they did not need, though, was Pujara (17, 65b, 1x4) losing his wicket in the final over before Lunch, when an inside edge onto pad was taken by the short leg fielder with Lyon picking up his first wicket of the Test match.
Australia had their chances to break the partnership a little before as well, with the big one being when Rahul was dropped by Peter Handscomb when the right-hander was on 30. Handscomb could not hold onto a catch, diving to his left at short cover, after Rahul drove one uppishly.
Steve O'Keefe, the hero of the first Test, was the man denied a wicket, and while he wasn't as threatening on this pitch, at least not yet, the left-arm spinner was quite impressive again.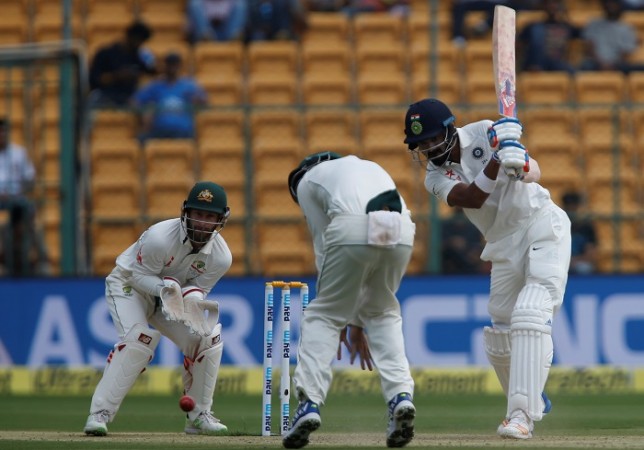 O'Keefe, brought on by Steven Smith in the eighth over, attacked the stumps, kept the ball at a good length and back of a good length and kept bringing the batsmen forward, searching for the ball, which did create a few ooh and aah moments.
Rahul and Pujara, however, survived the searching spell from O'Keefe, as well Josh Hazlewood and Starc – after scoring ten runs from the first over, India then only managed 11 runs in the next eleven, which just showed how tight the Aussies bowled early on – before Lyon struck right at the end of Lunch.
The off-spinner continued his brilliant spell of bowling, picking up the prized wicket of the India captain Virat Kohli soon after the break.
After troubling Kohli (12, 17b, 2x4) with a ball that spun and bounced in a previous over, Lyon created doubt in the India skipper and that doubt led to Kohli shouldering arms to a ball that spun in. He was struck smack-bang in the middle and while a hopeful review was taken, the Bengaluru crowd were stunned into silence as their main man walked back. Kohli got out not playing in Pune as well and he needs to get out of the zone of not using his bat to the spinners.
With Rahane (17, 42b, 2x4) struggling as much as he is against the spinners, there was little chance of a big partnership, which India so dearly needed, blossoming and so it proved, with the right-hander out stumped off Lyon.
India were in worry street yet again at 118/4 and it might have been a lot worse had Rahul been taken by David Warner at leg-slip, with the Australian fielder unable to hang on to a paddle-sweep attempt that came right at him.
Rahul survived and India kept hoping, with Karun Nair, who came into the team at the expense of Jayant Yadav, looking good in the middle. However, as seems to be the trend in this series for India, the good times did not last too long, and after a partnership of 38, Karun (26, 39b, 3x4) was undone by O'Keefe, who slipped one past the defence of the batsman, allowing Wade to whip off the bails in a flash with the right-hander caught out of his crease.
R Ashwin (7, 14b, 1x4) was then picked up by Lyon, as the batsman gloved one to leg-slip, before Wriddhiman Saha (1, 14b) came and went quickly to give Lyon his five-for while showing yet again he is does not quite have the batting wherewithal against quality attacks.
The only question at that point was if Rahul would be able to get to his hundred, but with Ravindra Jadeja (3, 16b) also falling, thanks to a good review from Smith, the opener had little choice but to try and attack and with Lyon in such a mood, that was never going to work.
Score:
First innings: India: 189 all out in 71.2 overs.
Australia: 40/0 in 16 overs.
Batting in the middle: David Warner (23, 51b, 1x4) and Matt Renshaw (15, 47b, 1x4).
Bowling: First innings: Australia: Mitchell Starc 15-5-39-1; Josh Hazlewood 11-2-42-0; Steve O'Keefe 21-5-40-1; Mitchell Marsh 2-0-2-0; Nathan Lyon 22.2-4-50-8.
India: Ishant Sharma 5-0-8-0; Umesh Yadav 4-1-16-0; R Ashwin 6-0-11-0; Ravindra Jadeja 1-0-5-0.
Fall of wickets: First innings: India: 11/1, Abhinav Mukund (2.5 overs); 72/2, Cheteshwar Pujara (27.5 overs); 88/3, Virat Kohli (33.5 overs); 118/4, Ajinkya Rahane (47.3 overs); 156/5, Karun Nair (57.2 overs); 174/6, R Ashwin (61.5 overs); 178/7, Wriddhiman Saha (65.3 overs); 188/8, Ravindra Jadeja (69.2 overs); 189/9, KL Rahul (71.1 overs); 189/10, Ishant Sharma (71.2 overs).