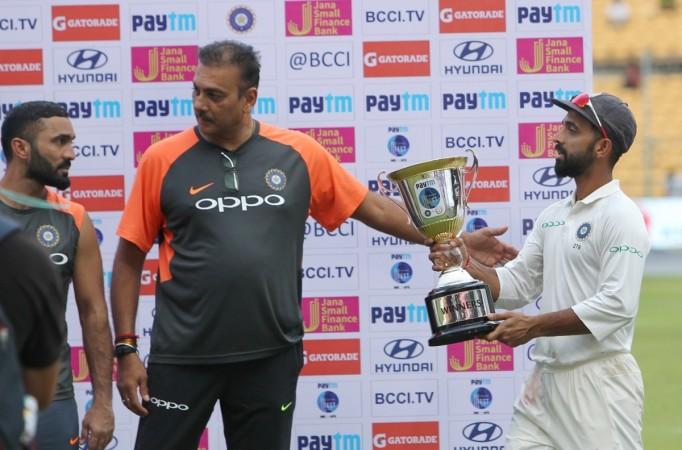 India captain Ajinkya Rahane spoke about being "ruthless" against Afghanistan in the historic Test. And he along with his team-mates stuck to that. But once the match ended in the hosts' favour, Rahane won several hearts with his great gesture. No "ruthless" involved.
Rahane-led India completed an innings and 262-run rout of Afghanistan in two days at Bengaluru's M Chinnaswamy Stadium today (June 15). The visitors were no match to the world number one Test side.
Afghans folded for 109 and 103 to surrender in their first-ever Test. This signalled how tough five-day cricket would be for them. It is just the first game and they have a long way to travel.
As the players lined up for the post-match presentation ceremony and few fans cheered the home boys, opener Shikhar Dhawan collected his cheque and trophy for the Man-of-the-match award.
Later, skipper Rahane was handed over the winners' trophy, which was quite big in size (considering this was just one-match series). First, he and his team-mates posed in front of the "Champions" board. As the photographers went about their business, Rahane turned towards Afghan players and called them to pose with the trophy.
It was a great gesture and unexpected one too. The fans cheered as Afghan players joined the Indians and the trophy was put at the front where the visitors' cricketers were sitting.
A leader, who spoke about being "ruthless" on the field, won hearts for upholding the spirit of the game. Rahane has always played his cricket that way. And he displayed it again.
"This feels really special. It is always an honour to lead your country and we wanted to be ruthless. Guys like Shikhar (Dhawan) and (Murali) Vijay got those hundreds, (KL) Rahul chipped in and (Hardik) Pandya was magnificent at the end," Rahane said after the win.
Rahane: Sure Afghanistan will go a long way in Tests
"It was important for all of us to stick to our basics, create some good habits, but credit to Afghanistan, they were fantastic. From here on it is only upwards and onwards for them. Their seamers bowled really well, especially in the third session yesterday and I am sure they will go a long way against all opponents," he added.
When the battle was won and it was time to rejoice, Rahane did not forget the rivals, who were in Test cricket for the first time. The Mumbai batsman, with this gesture, would have certainly won many fans in Afghanistan and across the world.
In the end, cricket was the real winner.