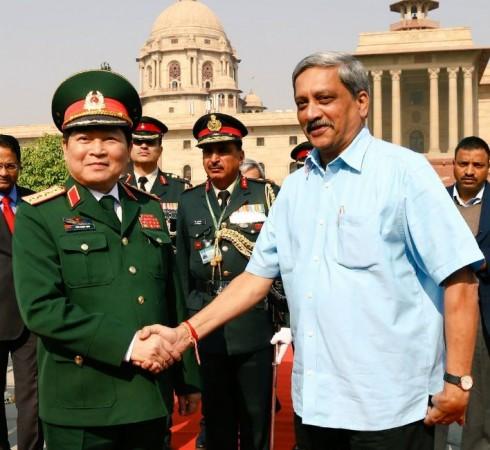 India and Vietnam are all set to boost their bilateral defence ties and cooperation with New Delhi deciding to train Hanoi's Sukhoi Su-30 pilots as both are wary of an assertive and aggressive China prowling in their respective neighbourhood.
The cooperation between New Delhi and Hanoi is part of the intensified effort to have better defence relation with Vietnam, which was reported to be an export potential country for the supersonic BrahMos missile, which is a joint venture between India and Russia.
India and Vietnam on Monday reviewed their defence cooperation, when Defence Minister Manohar Parrikar and visiting counterpart General Ngo Xuan Lich met in New Delhi.
Previously, India had trained Vietnamese sailors on Kilo-class submarine operations.
India has also offered to help Vietnam with aircraft repair and maintenance, given the fact that Vietnam too uses Sukhoi Su-30 aircraft from Russia. India operates over 200 Sukhoi Su-30 MKI fighters and nine Kilo-class diesel electric submarines.
"Details are being worked out. Their pilots will be trained here. The two Air Forces will now sit and work out the numbers and scope. It should start fairly quickly," said a defence source, the Hindu reported.
India has also extended $500 million Line of Credit (LoC) to Vietnam for defence purchases, but the training cost will not be paid through this.
India has not clarified the sale of BrahMos missiles to Vietnam, however, New Delhi has agreed "in principle" to sell the missiles. It has been reported that the negotiations with Vietnam are going on and India need to take the approval of Russia too as it is also a partner in the missile's development.
Received the Vietnamese Defence Minister Gen. Ngo Xuan Lich & had fruitful discussions on the expanding Indo-Vietnamese defence partnership. pic.twitter.com/nYBzZelQZX

— Manohar Parrikar (@manoharparrikar) December 5, 2016
India will be signing a memorandum of understanding (MoU) on peacekeeping and exchange of delegations with Vietnam.
Chairman COSC & CAS ACM Arup Raha presents a memento to Lt Gen Le Huy Vinh, Cdr of Vietnam People's AirForce & Air Defence Service at AirHQ pic.twitter.com/X5ygNaGTC3

— Indian Air Force (@IAF_MCC) December 5, 2016
This visit is important as Gen Lich's delegation has as many as 30 people, which includes the chiefs of Air Force and Navy and the deputy chief of General Staff.
Meanwhile, China, which has territorial dispute with both India and Vietnam might not be happy with the growing defence ties between the two countries. It might be observing the developments keenly. India irked China when New Delhi allowed US Ambassador to India Rich Verma to travel to Arunachal Pradesh, which China calls lower Tibet.