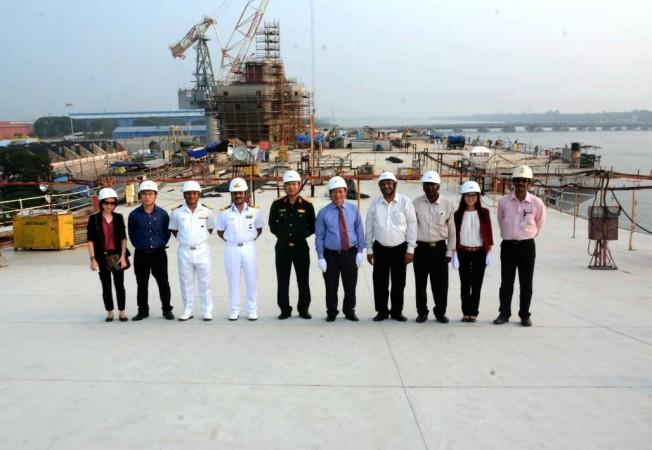 Even as China continues to encircle India in the name of economic initiatives like the China–Pakistan Economic Corridor (CPEC), One Belt One Road (OBOR) and other projects, India is looking to counter these moves. Thankfully, India has found a reliable friend in Vietnam which like India shares its enmity with the powerful China. And as the ancient proverb goes, "the enemy of my enemy is my friend" functions well for both, India and Vietnam.
India will soon be rolling out red carpet welcome for Vietnam's defence minister Ngo Xuan Lich on December 3. This visit is important even as India and Vietnam deepen their military co-operation which has already been upgraded to that of strategic partnership.
Ahead of Lich's visit, Vietnam's top envoy in India, Ton Sinh Thanh, Vietnam's ambassador in India interacted with Indian Navy officials in Kochi. A tweet from the official account of Indian Navy revealed Thanh's visit to the under-construction Indigenous Aircraft Carrier (IAC). The IAC is being constructed by the Cochin Shipyard Limited.
This picture reveals that India and Vietnam have a high level of trust between them and there could be a possibility of Vietnam opting for India-made aircraft carrier sometime in the future. But more importantly, Vietnam is interested to take the help of India to better its defence industry.
India has been training Vietnamese submariners to operate the six newly purchased Kilo submarines from Russia. India already uses several Kilo submarines.
Vietnam is looking to India to train its pilots for the recently-acquired 36 Su-30MK2 fighter jets from Russia, something in which India has expertise, after Russia, as it operates a large fleet of Su-30MKIs, an Indian variant.
"Vietnam would be seeking replication of the success of cooperation between the two navies with the Army and Air Force as well. We would definitely like to hear them as they are our strategic partners," said officials from the Ministry of External Affairs (MEA) to the New Indian Express.
The proposal to train pilots has not taken off due to financial limitations. Nevertheless, India announced two new credit lines for defence purchases - $100 million and $500 million.
In June, Indian ship builders, Larsen & Toubro (L&T) were handed over the bid document to build Offshore Patrol Vessels (OPV) for Vietnam.
There have been reports that suggest the possibility of Vietnam buying Indo-Russian supersonic cruise missile, BrahMos to guard its 3,444km coastline from the rising Chinese aggression in South China Sea.
Under the India Technical and Economic Cooperation programme, India has allotted 50 slots to personnel from Vietnam to train in India.
While India had to lose to China in land war, Vietnam has never lost against them. Vietnam is looking to develop a stronger naval force and develop its defence industry.
Vietnam has offered India five oil and gas blocks in the South China Sea to India for exploration, which does not go well with the leadership in Beijing.
India has intensified its interactions and is partnering with South East Asian countries as part of its Act Asia Policy, changed from the earlier Look East Policy. Vietnam is said to be New Delhi's crucial link to the region and beyond.