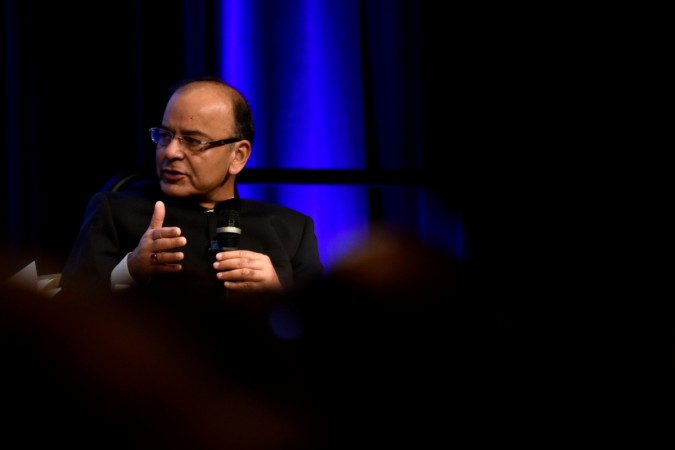 On Day Two of the India-UK Tech Summit, it's not just the seating that has changed in the Hotel Taj Palace's Darbar Hall from auditorium style to round tables. Day One ended on a bit of a low with many attendees having left after posting the very Delhi-selfie, establishing that they had heard the two Prime Ministers live that morning. But, once again, the hall is packed this morning; and there are more serious delegates around from the corporate sector because the guest speaker is Arun Jaitley, India's Finance & Corporate Affairs Minister. Suave, articulate and very much in the thick of the GST negotiations, he is always a politician in demand.
Kumar Iyer, Deputy High Commissioner, Mumbai & Director General, Economic, Trade & Investment welcomed everyone after Arun Jaitley received a standing ovation upon his entrance, along with the Rt. Hon. Liam Fox MP, UK's Secretary of State for International Trade, Dr Naushad Forbes, President CII, and Chandrajit Banerjee, Director General CII.
Dr Forbes acknowledged the Finance Minister's stewardship of leading India's economic growth. But he urged the Government, Industry and Academia to bring back the focus on manufacturing and R&D. This is where he felt collaboration between the two countries would help facilitate this.
Continuing this train of thought, Liam Fox reminded the audience how UK was considered the most innovative country in the world and that it was the "natural partner" for India to grow its skilled workforce and help accelerate technological development. "Geographically distant but historically and culturally close," he iterated, "UK firms employ 700,000 people in India and control 8% of FDI in India." JCB, BA Systems and Jaguar Land Rover were among the companies he mentioned. He also referred to India's smart cities project as "perhaps the world's most ambitious project" and a key sector where UK was partnering the country. Concluding his address, he stated, "India is taking its place in the world and Britain will stand by one of it strongest allies."
When Arun Jaitley took the podium, there were some whispered conversations about whether he would continue the aggressive tone that has marked the political discussions between the two countries on the issue of visas and handing over India's willful defaulters sheltered in the UK. But, the Finance Minister struck what appeared to be a note of reconciliation as he recalled the seven-decade relationship between the two nations: "The Tech Summit marks yet another step in the ever-growing relationship bet India and UK. A relationship that has defied many an understanding... Seven decades ago we got independence from the British after a prolonged struggle but it was one of the most peaceful, civilised transfers of power without any bitterness from Day One." He mentioned how India had inherited some of the best British traditions in governance and administration and how India had strengthened each of those institutions even as other fledgling democracies and developing nations dismantled them.
"Protectionism is a voice almost not heard in India any longer," he emphasised. "India is impatient and, as an aspirational nation, doesn't want to let go of any opportunity." Referring to Dr Forbes' earlier address, he too believed that the share of manufacturing has to increase from the present 15% to 25% level. He also referred to manufacturing's "huge potential to grow especially in eastern India" and welcomed investments in infrastructure given the country's ambitious highway construction programme as well as in railway stations, airports and seaports.
Thanking the speakers, Chandrajit Banerjee of CII felt the speeches couldn't have had a better start to the sessions today and that they had set a positive agenda beyond the Tech Summit.