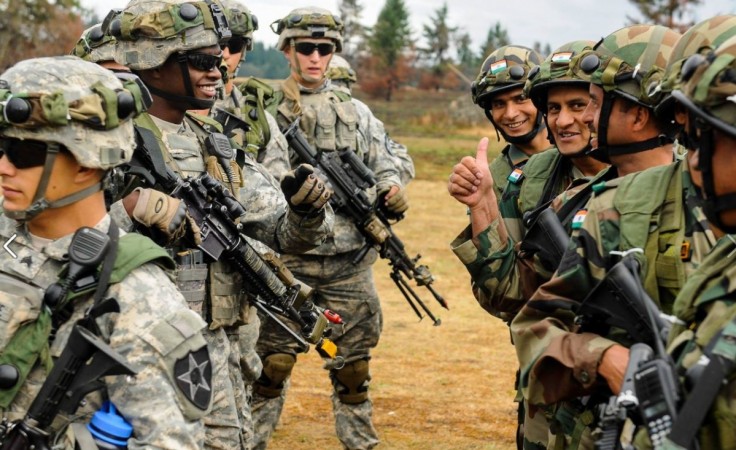 Alarms bells might ring high in China as the Indian and the U.S. armies would be undertaking counter-insurgency and counter-terrorism exercises as part of their "Yudh Abhyas" 2016 in Chaubuttia, Uttarakhand, close to the China border.
This is the twelfth such exercise between the two armies and this edition is being held from Sept. 14 to Sept. 27.
India and U.S. regularly conduct exercises and have recently agreed to increase the scope and content of the exercises. The latest round involves the three wings of each other's armed forces. This exercise, however, is under the UN charter.
The U.S. Army are expected to field around 225 personnel from the 5th Infantry Regiment, 2nd Stryker Brigade combat team and 7th Infantry Division of the U.S. Army. The hosts are also expected to field same number of soldiers from the 14th Battalion of the Garhwal Rifles and the 12th Battalion of the Madras Regiment.
The exercise has been progressively planned with participants having to gain familiarity with each other's organisational structure, weapons, equipment and tactical drills. This will be followed by joint tactical exercises where both armies perform battle drills.
This will be followed by final validation exercise that will see the men in uniform carry out joint operations on the mountainous environments of Uttarakhand, where they take on hypothetical terror targets. This part of the exercise will see soldiers being inserted into the area by Indian Army choppers.
This will be the first Yudh Abhyas 2016 exercise after India and U.S. signed a significant logistics agreement, Logistics Exchange Memorandum of Agreement (LEMOA). Critics, though, have billed it as a defence pact.
In June 2016, India participated in trilateral Malabar exercises involving the navies of India, U.S. and Japan.
Moreover, during the recently concluded ASEAN 2016 summit in Laos, PM Narendra Modi reiterated the country's position on South China Sea. India supports "freedom of navigation, overflight and unimpeded commerce, based on the principles of international law, as reflected notably in 1982 United Convention on the Law of the Sea," he said.
"We also believe that the threat or use of force to resolve disputes would complicate matters affecting peace and stability," he added.
However, an authoritative source told The Sunday Guardian that the focus of the exercise is not China and the location was chosen for its geographical features. Modi further reiterated that both countries have a friendly and co-operative relationship with China.