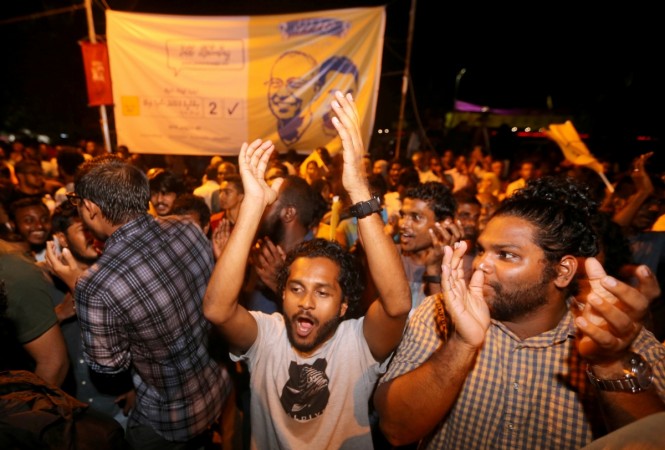 The election of Ibrahim Mohamed Solih as the President of Maldives in September seems to have swung the key Indian ocean nation in India's way, once again.
In worrisome development for China, international news agencies have reported that Maldives could pull out of a free trade agreement with China and move closer to India.
Two key comments in recent days from former president Mohamed Nasheed point to a significant thrust to the pro-India tilt in Maldives. Nasheed is a close advisor to Solih and had campaigned against the Abdulla Yameen government while in exile.
Nasheed said the trade imbalance between China and the Maldives was so huge that nobody would think of a free trade agreement. On another occasion he said Maldives would review the "very one-sided" trade deal with China.
Yameen had rushed through with the free trade deal with China in December last year. But Nasheed has said that parliament would pass the zero tariffs deal with China.
The huge swing in Maldives followed Prime Minister Narendra Modi's presence at the swearing in of Solih as president on Saturday. It was Modi's first ever visit to Maldives as prime minister.
India had watched, with some obvious discomfort, the increasing ties between China and Maldives under Yameen. Both the leaders had exchanged state visits as well, even as China lured the island nation with massive investment.
President Xi Jinping visited the country in 2014. The announcement of the China-Maldives maritime silk road partnership followed soon. In 2015 Maldives amended the constitution to allow foreigners to own land in the country on freehold basis on condition that the investment should be to the tune of at least $1 billion and 70 percent of the project should be on reclaimed land.
In December 2017 Maldives became only the second country after Pakistan to sign a Free Trade Agreement (FTA) with China. China has also roped Maldives into its Belt and Road Initiative (BRI) and has undertaken massive infra projects including the construction of bridges and apartment complexes.
The emergence of Maldives as a key ally in Indian Ocean has always been a security concern for India. India's influence over the archipelago, which is just 700 km across the Lakshadweep islands, had been on the wane in the last six years. The latest development shows India has been able to prevent further pro-China tilt of the key ally, which had been decisively slipping out of its geopolitical orbit.
China, which is watching the events closely, hasn't yet responded to the possibility of the nixing of the free trade deal. However, the Chinese embassy in Male brushed aside the Nasheed's charge that Beijing was inviting the pigmy nation into a debt trap.