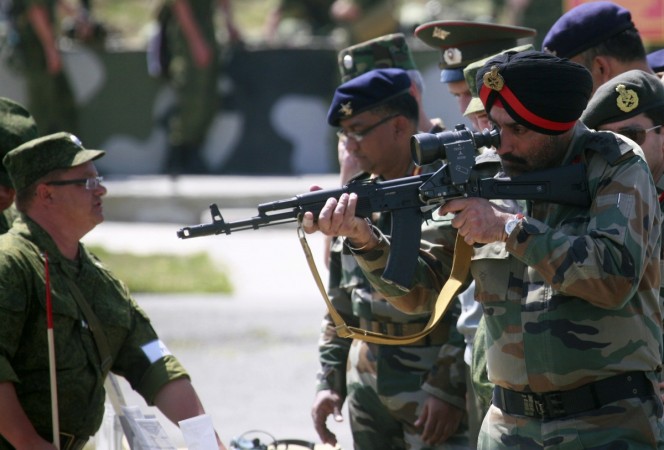 "Indra 2016," the annual military exercise between Indian and Russian forces, has been confirmed to begin on Sept. 22 and will end on Oct. 2. The exercise is to be held in the Russian Far East.
The joint drill will see the participation of 250 servicemen from each side, sources close to the Indian defence ministry told Russian news agency TASS.
Previously, the joint exercise was scheduled to begin in August and end in early September, but both the countries agreed to postpone it.
Meanwhile, Russia has made known that it has no qualms with India selling Russia-made Mi-24/25 attack helicopter to Afghanistan. Afghanistan had requested India to provide these attack gunships, which are crucial for the country to fight Taliban and other terror outfits.
"If the Indians want to sell them, there is a special procedure for that. I don't see any problems," Zamir Kubulov, Russian president's envoy for Afghanistan and director of the Russian foreign ministry's second Asia department, told TASS.
Meanwhile, New Delhi hosted the 22nd Session of the India-Russia Inter-Governmental Commission on Trade, Economic, Scientific, Technological and Cultural Cooperation (IRIGC-TEC) on Sept. 13.
The Russian delegation was headed by Dmitry Rogozin, deputy prime minister of Russia, who has been in charge of the defence industry, and the Indian delegation by External Affairs Minister Sushma Swaraj.
Both India and Russia reviewed preparations for the upcoming India-Russia Annual Summit in Goa on Oct. 15. They also reviewed progress made with regards to trade and investment, and expanding cooperation in oil and gas sphere. The two countries are mulling gas pipeline to deliver gas directly from Russia to India.
Both the sides discussed implementation of the International North South Transport Corridor (INSTC) project and "Green Corridor" project for customs facilitation. They also discussed co-operation in the field of railways, pharmaceuticals, student and faculty exchange, cultural cooperation and tourism.
India and Russia will celebrate 70th Anniversary since the establishment of diplomatic relations between India and the erstwhile USSR (now Russian Federation) in 2017. Both have planned a series of activities in celebration of such an occasion.