7:56 pm - It is either Shalu or Malaica who will be eliminated tonight. Malaica gets the green signal while Shalu bids adieu to the show.
7:53 pm - Best walk of the week was of the wildcard Kat. She is still in the running. Along with Kat, Urvi, Rushali, Tamanna, Asma, Riya, Nisha are also safe.
7:51 pm - And now it's time for the results on INTM4. Malaika Arora holds the name of the contestants who'll stay on INTM4.
7:48 pm - Malaika is not at all happy with Nisha. "What the hell you were doing over there," Malaika rebuked Nisha for her baby-step ramp walk .
7:46 pm - Kat has become a serious competition for other models and judges totally agree with it. Malaika tells her that she sees a finalist in Kat.
7:46 pm - Rushali gets praised for her mid-air runway walk.
7:44 pm - Though Riya fell off the ramp, they lauded her for trying.
7:43 pm - Shalu gets rapped for holding on to the harness. Judges tell her that there was no walk, no expressions, no attitude and no confidence.
7:42 pm - Malaica's height became a disadvantage for her in this task, and that's what Malaika Arora Khan had earlier told her.
7:40 pm - Now judges are evaluating Tamanna's walk. Judges felt her steps were shorter and didn't look like a ramp walk. They are disappointed with her.
7:39 pm - Urvi impressed judges with her confident walk and her attitude.
7:36 pm - Judges liked Asma's walk but they tell her to work on her confidence.
7:35 pm - Malaika and other judges will now be evaluating the models' mid-air runway walk.
7:34 pm - And it's a wrap.
7:32 pm - Now it's Asma's turn. She is looking quite frightened. And her fear took over her walk as she fell off the runway.
7:31 pm - Wildcard entrant Kat Kristain has shown everyone how it is done. She walked like she was walking in home. She has done the mid-air runway very nicely and earned immense appreciation.
7:30 pm - Oh My God, Riya just fell off the platform and was hanging in the air. And she kept falling off the edge.
7:29 pm - Tamanna couldn't live upto the mark. Her runway walk was very poor.
7:28 pm - Nisha is too scared that she is taking baby steps on the runway. The fear on her face is quite evident.
7:27 pm - It's Shalu's turn first and we're so nervous! We mean it can get tough to walk on such a thin ramp while wearing heels.
7:25 pm - Urvi too has done it beautifully but when she was coming back, she lost her balance and fell on the ramp. However, she pulled herself up and completed the task.
7:24 pm - Now, Rushali is walking the narrow runway smoothly overcoming her fear. Howeverm at one point, she lost her balance and held the harness but she has done it. Neeraj applauded her for her courage and gave other models an example of how it is done.
7:22 pm - Malaica is damn scared right now. As soon as she took her first step, she wobbled on the runway. She is continuously touching the harness which the models have been strictly instructed not to touch it. Her walk was not glamorous but she did it.
7:20 pm - Models will now be walking on a 40-feet high mid-air runway which is just 10 cm wide wearing high heels and harness.
7:19 pm - Urvi is teaching Kat how to catwalk while Kat observes her and tries to imbibe the details.
7:18 pm - Kat is surely a little stressed about her first task. She says, "Maine kabhi heels bhi nahi peheni our ab itni upar heels pehenke chalna padega."
7:17 pm - And now the models will be going through one of the most dangerous challenges - it's going to be a mid-air runway on INTM 4.
7:13 pm - After the makeover, models have been given a chance to show their new look to their families through a video call. Models are getting emotional after speaking to their loved ones after a very long time.
7:11 pm - A twist in the feeling, models are actually feeling really nice with the makeover and are jumping with joy.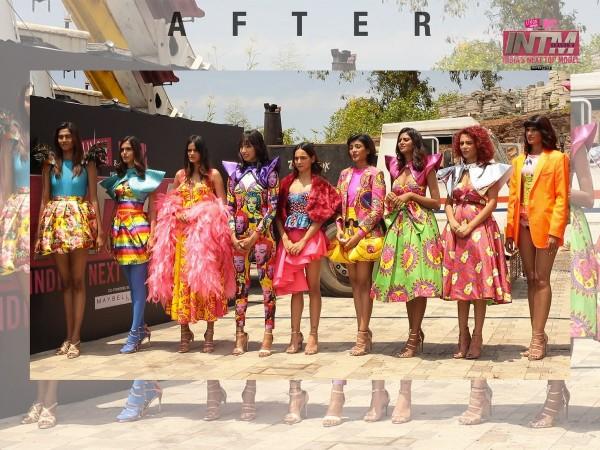 7:07 pm - Kat doesn't want to have a boy cut. She refused to cut her hair and walked out of the room. Anusha comes and talks to Kat and asks her why she doesn't want to cut her hair short. She tells her that from childhood she was having short hair and now she doesn't want it. When Anusha asks her if she would even leave the show if she refuses to cut her hair, Kat says yes. However, Anusha tells her that she will talk to the hair-stylist and see what they can do.
7:06 pm - Models are feeling quite hesitant to cut their hair short. They are feeling quite scared. They are literally crying.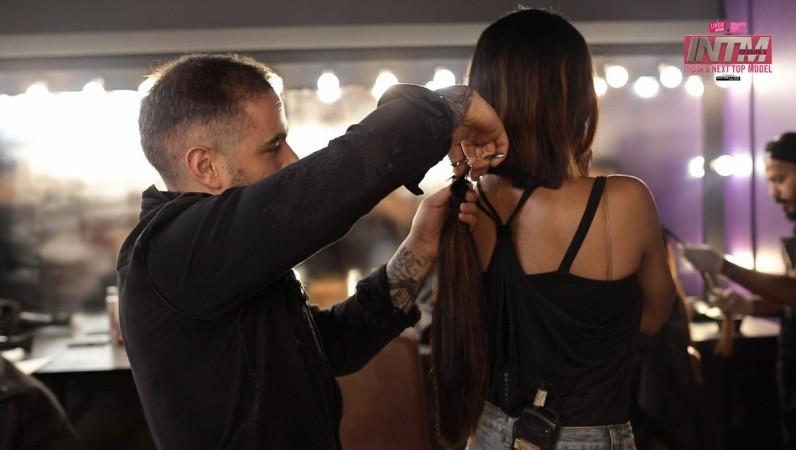 7:06 pm - Anusha introduces models to the make-up and hair-stylist Daniel from Malaika's academy who will be tranforming the models.
7:05 pm - Meanwhile, Malaika addressed models through the screen telling them that they will going to have a make-over.
7:04 pm - Everyone in the model house has found a target, and it's Asma.
7:03 pm - It looks like the rivalry between Tamanna and Asma is not going to end anytime soon. Tamanna is continuously criticising for her appearance while other models are not happy with Asma's behaviour as well.
7:02 pm - All models are now chilling in the pool and they have littering boiled the water with their hotness in their skimpy bikinis.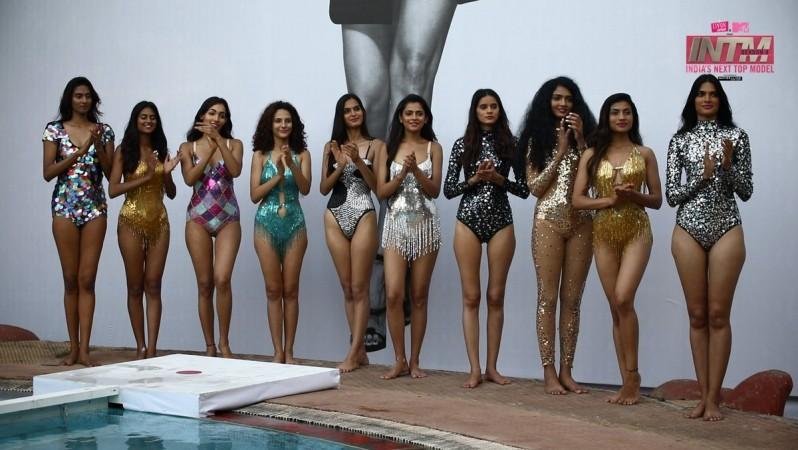 In tonight's episode of India's Next Top Model 4 (INTM 4), 8 out of 9 girls will go ahead while 1 will get eliminated from the show.
Judge Malaika Arora Khan, who will reveal who will leave show and who will leave stay, will be seen rebuking a contestant for how her height that she was carrying as an advantage turned into an disadvantage for her.
On the first episode of INTM 4, it was Malaica who had said that her height is her USP (unique selling point) which makes her stand out from the crowd.
It could be possible that Malaica may have got an disadvantage while performing in a particular task. However, Twitter users feel either of the two - Malaica or Tamanna - will be eliminated tonight.
While some models have performed well, some have not.
Stay tuned for the live updates from MTV India's Next Top Model 4 tonight at 7 pm.