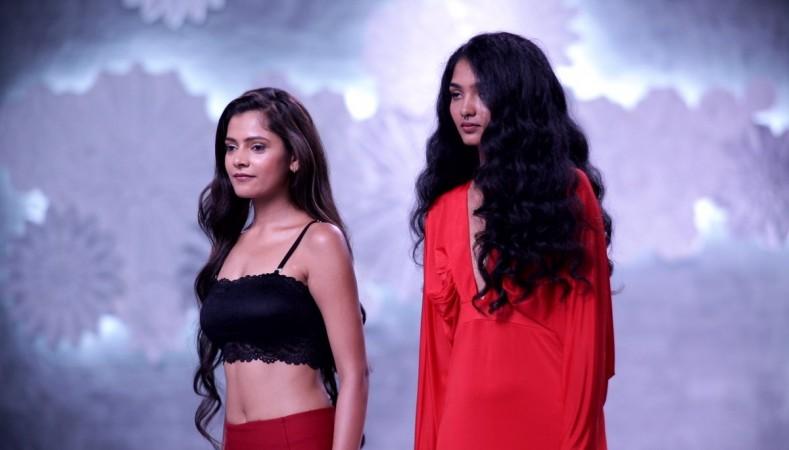 7:58 pm - In a bid to keep the girls on their toes, Malaika introduces them to Kat Kristain - the first wild card entrant on INTM 4 (India's Next Top Model 2018). The competition is going to get tougher now.
7:56 pm - The names Malaika will announce will remain on the show. Malaica and Shalu (the best picture today), Nisha and Riya (for having more spark) are safe. Among the last two pairs, Rushali and Urvi are safe while Aishwarya and Shefali bid goodbye to the show.
7:50 pm - Now the panel will decide who will get eliminated tonight. The elimination process will begin in a minute.
7:49 pm - Aishwarya and Shefali will now be evaluated. Dino, Milind didn't like their pictrure at all as they lacked co-ordination.
7:47 pm - Now Riya and Nisha step forward. While Dino found their picture little awkward, Malaika and Milind liked it.
7:46 pm - Milind Soman and Dino Morea liked Malaica and Shalu's picture but Malaika discredits them for lacking spark.
7:43 pm - Rushali and Urvi now walk forward. The two argue that their picture was better than Asma and Tamanna but Malaika turns them down.
7:42 pm - Basis the pictures of their last photoshoot, Malaika saves one pair who will be immune from evaluation. And the pair is none other than - Asma and Tamanna. They will now take their place in the safe zone.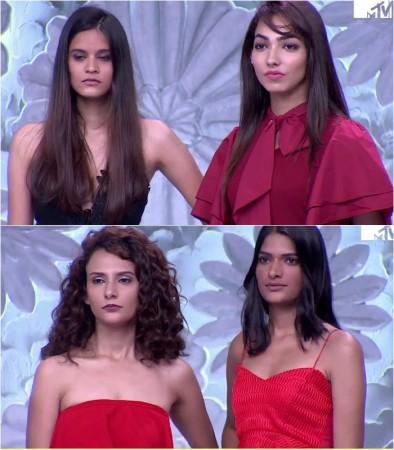 7:41 pm - Judges will now evaluate models with whom they did the photoshoot and based on that, two models will be eliminated tonight.
7: 40 pm - Models will now confront all the judges. Joining the judges panel is Dino Morea.
7:39 pm - The challenge is over now and the models have now entered the model house.
7:38 pm - Malaica and Shalu get inside the cage. Shalu drops the wood and was about to drop the snake as well. Anusha tells them to use the fallen wood for their advantage. And finally they do the poses.
7:37 pm - Riya and Nisha now pose for the camera but they look very scared. Finally, they overcome their fear and strike much better poses.
7:34 pm - Shefali and Aishwarya now enter the cage. Shefali is getting irritated with Aishwarya who is not doing anything to pose. Anusha warns them that it is getting boring and asks Aishwarya if she wants to be on the show.
7:30 pm - Tamanna and Asma are now inside the cage. Asma is very scared right now. She literally breaks down. Tamanna tries to encourage her to pick up the snake. Anusha complains to Asma that she is holding the snake like a dead body and she will get disqualified if she doesn't do anything. Asma wants to quit but Tamanna is trying hard to help her out. Finally, the two manage to strike a few poses to the camera.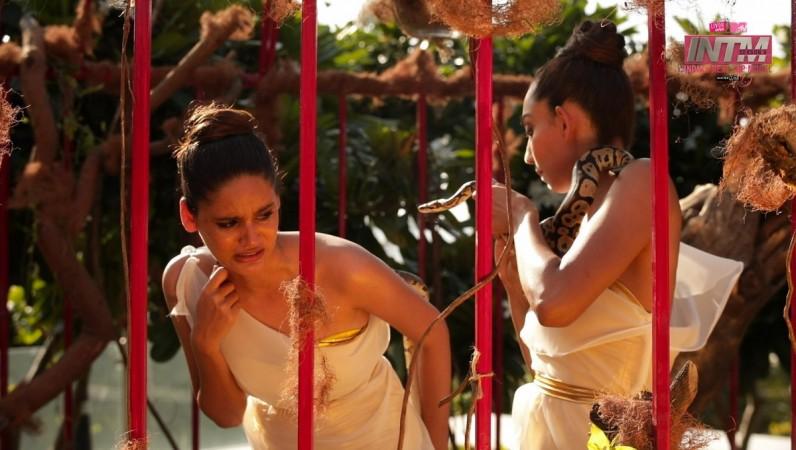 7:29 pm - Rushali and Urvi now stand inside the cage but they look scared to pick up the snake and click pictures with it. But it looks like the snake is not co-operating with them. Finally, the two girls get along with the snake and strike multiple poses to the camera. And it looks like they have nailed this one.
7:28 pm - Girls will pose inside a cage with two sexy slithering models - snakes. Photographer Kunal Gupta will be doing the photoshoot.
7:23 pm - Rushali and Asma get the first chance to choose their partners for photoshoot. Rushali picks Urvi as her partner while Asma chose Tamanna.
7:22 pm - Karan informs models that they will be doing their next photoshoot in pairs and that will be animals.
7:20 pm - And today's bubble runway challenge winner is Rushali which makes her the second contender to get a special power. And the first contender is the one who other contestants placed their bets and she is none other than Asma.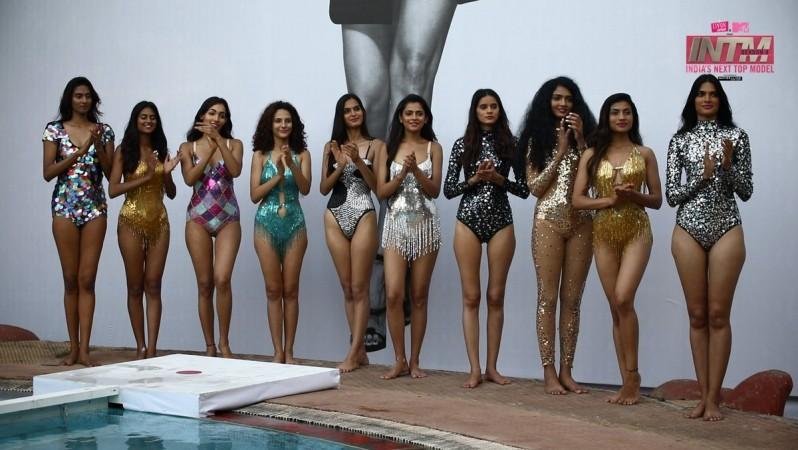 7:19 pm - Asma now takes up the challenge and seems to have impressed Karan with her model walk. She is looking straight while walking and Alisia told her that she looks like a fighter. Aasma's walk has left everyone in awe of her.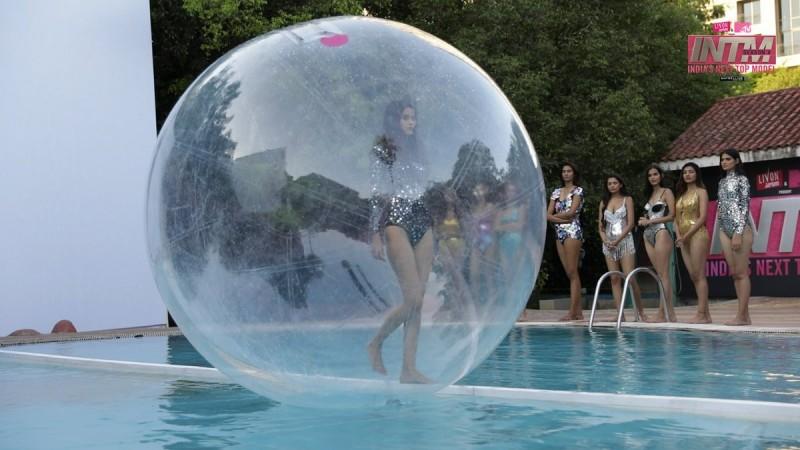 7:17 pm - Shefali does the runway challenge good but not great and Shalu fell off the ramp even before she could take two steps on the ramp. Aishwarya is not able to take a single step on the ramp. She failed Karan and Alisia. "I didn't see your fighting spirit," Karan says.
7:16 pm - Malaica is now taking up the bubble runway challenge but she fails to impress.
7:14 pm - Rushali is walking with her hands on her waist to maintain her balance and she is doing it like professional. She loses her balance as soon as she turns around but somehow maintains her balance. Alisia is quite impressed with her performance. "Now that's how you walk like a model," says Alisia.
7:13 pm - Now her rival Nisha walks the ramp. She is damn scared. Alisia tells her to see in the front but she continues to look down to keep her balance. Alisia tells her that she is disappointed with her performance.
7:12 pm - Tamanna now walks the ramp but fails to do the model walk on the narrow ramp. She struggles to get back on the ramp.
7:11 pm - Urvi completes the challenge but her walk didn't look like a ramp walk to other contestants.
7:08 pm - Riya is the first contestant to perform the bubble runway challenge. She falls off the ramp after reaching the half way. She crawls back again and begins the challenge from the start. And yet she falls 4-5 times.
7:05 pm - The girls will now be walking on a thin ramp in a bikini after getting inside a bubble. Karan Kundra will be guiding the models in the challenge. The winner of the challenge will get one step closer to the biggest power that one could possess.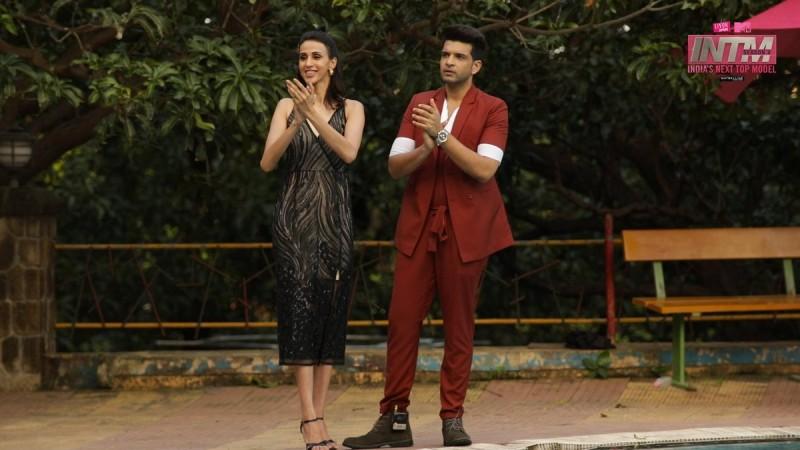 7:03 pm - Judge Neeraj Gabba introduces contestants to Alisia Raut, runway coach, who will train the girls on how to walk the runway keeping themselves steady at the same time.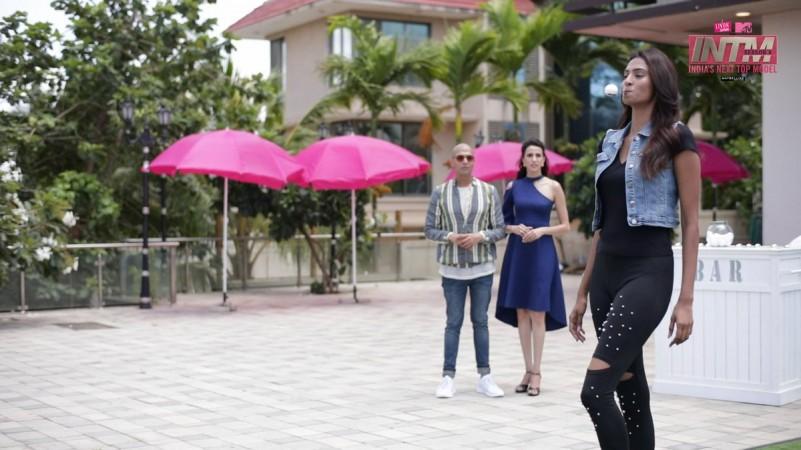 7:01 pm - Shefali, Rushali, Tamanna and Malaica have joined forces against Nisha. Nisha has created trouble for herself but was Tamanna really needed in this conversation?
In tonight's episode of INTM 4 (India's Next Top Model 4), new alliances will be formed and a double elimination will take placebased on the photoshoot done in pairs. Judges Malaika Arora Khan, Dabboo Ratnani, Milind Soman, Anusha Dandekar and Neeraj Gabba will be closely monitoring each and every contestant on the show.
Last Saturday on INTM 4, Rhea was eliminated from the show as she struggled through the underwater and ring of fire photoshoot with Milind Soman challenges.
Audience also witnessed a heated rivalry taking place between Tamanna and Nisha. And it looks like the bitterness among them is going to get toxic in the upcoming days.
Meanwhile, girls will be taking up various challenges on the show and try to move on to the next step to earn the title of India's Next Top Model 4.
Stay tuned on IBTimes.co.in for the live updates from MTV India's Next Top Model 4.