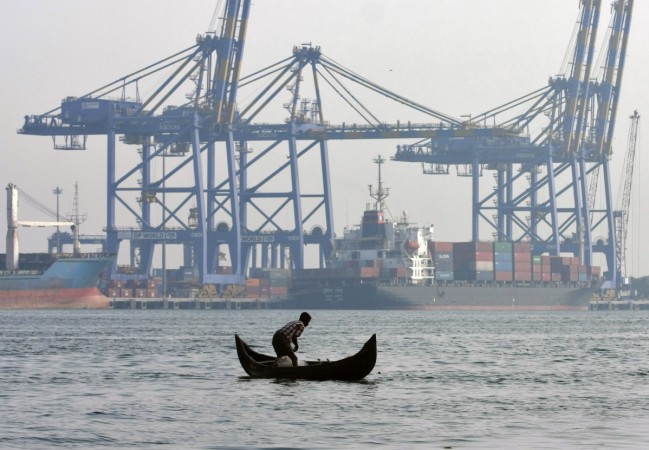 Read breaking news, live updates and much more from International Business Times India:
Sabarimala temple stampede injures at least 31, 12 of them critical
Former IAF chief SP Tyagi has been granted bail by the Patiala House Court in the AgustaWestland case
India test-fires 'Agni-5' from Wheeler Island off Odisha coast today
Actor and MP Mithun Chakraborty has resigned from the Rajya Sabha citing health issues.
Here are the live updates:
7:15 pm IST: Pakistan has released 220 Indian fishermen it had arrested over a period of time after they strayed into international or Pakistani waters. The move is said to be a goodwill gesture.
6:15 pm IST: Father Tom Uzhunnalil, an Indian priest abducted by the Islamic State group in March, has appealed to Pope Francis as well as the Indian government to help him gain freedom from the terrorist group.
5 pm IST: Nabha jailbreak update: Harminder Singh Mintoo, who was the prime target of the people who broke several people out of jail from Punjab earlier this year, may soon be presented in the Patiala House Court. The court has directed the authorities to present the Khalistan terrorist on January 3, 2017.
4:03 pm IST: Security forces have arrested two Naxalites accused in Dantewada jailbreak incident in Bijapur district of Chattisgarh.
3:55 pm IST: Actor and MP Mithun Chakraborty has resigned from the Rajya Sabha citing health issues.
Noted actor Mithun Chakraborty on Monday resigned from the Rajya Sabha, citing health reasons. He had been a member of the Upper House of Parliament on a ticket from the Trinamool Congress. Read more...
3:15 pm IST: The Patiala House Court has dismissed Subramanian Swamy's plea seeking some documents of National Herald. The next hearing has been scheduled on February 10.
3:10 pm IST: A 3.5 magnitude earthquake hit Dehradun in Uttarakhand around 2:16 pm today. However, no loss of life or property has been reported.
2:57 pm IST: Khalistan Liberation Force terrorist Harminder Singh Mintoo, along with the four others accused in the Nabha jailbreak case, will remain in judicial custody till January 9.
2:52 pm IST: At least one policeman and two civilians have been injured in a gas cylinder blast inside Kupwara Police Station in Jammu and Kashmir.
2:32 pm IST: Around 30 kg of gold was stolen from Manappuram Gold Finance Company in Ulhasnagar in Thane. The police has registered a case.
1:27 pm IST: Delhi's Customs Department has seized 453 grams of gold from a passenger travelling from Bangkok.
1:22 pm IST: Rs 90 lakh was looted from Muthoot Finance branch in Dhoraji in Gujarat on Monday morning.
12:53 pm IST: Bollywood actor Shah Rukh Khan has been conferred the honorary doctorate by Maulana Azad National Urdu University in Hyderabad.
12:21 pm IST: The DMK general body meeting, which was postponed after party chief Karunanidhi was hospitalised, has now been scheduled for January 4, 2017.
11:32 am IST: Two people have been arrested after Rs 2,000 fake notes worth Rs 26 lakhs were recovered in Rajkot in Gujarat.
11:15 am IST: India successfully test-fires Agni-V from Wheeler Island off Odisha coast
India successfully launched Agni-V — the indigenously developed intercontinental surface-to-surface nuclear capable ballistic missile — from Wheeler Island off Odisha coast on Monday. The three stage solid propellant missile was test-fired from a mobile launcher from the Integrated Test Range's (ITR) launch complex-4. Read more...
11:08 am IST: AgustaWestland chopper scam: Former IAF chief SP Tyagi gets bail
Former Indian Air Force (IAF) chief SP Tyagi has been granted bail by a Patiala House Court in Delhi in the Rs 3,600-crore AgustaWestland chopper scam. His bail has been set at Rs 2 lakh, on condition that he does not leave Delhi or the National Capital Region. Read more...
10:36 am IST: Two people were arrested by the Karnataka Police. New Rs 2000 notes worth Rs 11.30 lakhs were recovered in Davangere. The matter has been referred to the Income Tax department.
9:50 am IST: The Delhi Police arrested three people for looting Rs 10 lakh from a cash van in Pandav Nagar on December 19. Around Rs 9 lakh has been recovered.
9:04 am IST: Uttarakhand Chief Minister Harish Rawat, who was summoned by CBI today in the alleged Sting CD case, will not appear before the investigation agency.
8:59 am IST: More than 900 cylinders burst in Karnataka's Chikkaballapura district
More than 900 cylinders stored in two trucks near Chintamani in Karnataka's Chikkaballapura district burst on Sunday night. Reports state that the cylinder blasts resulted in a massive fire, which burnt two trucks and a Bolero vehicle. No causalities have been reported in the incident yet. Read more...
8:27 am IST: At least one person died while 10 were injured when a picnic bus carrying students met with an accident near Maichheli village in Nuagaon in Odisha.
8:04 am IST: Six international flights have been delayed at the Indira Gandhi International Airport in Delhi due to fog. At least 37 trains have also been cancelled due to fog and operational reasons.
7:39 am IST: A 'Winter Carnival' has been organized in Nainital till December 31 to promote the culture of the state of Uttarakhand to increase tourist footfall in the region.
7:13 am IST: Delhi Court will pronounce an order today in the National Herald case.