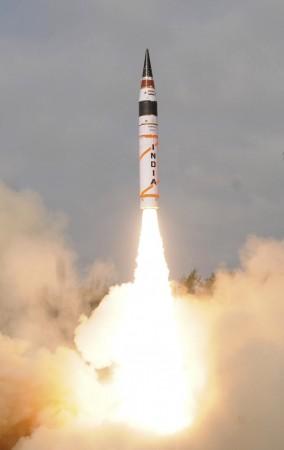 India launched Agni-V — the indigenously developed intercontinental surface-to-surface nuclear capable ballistic missile — from Wheeler Island off Odisha coast on Monday. The three stage solid propellant missile was test-fired from a mobile launcher from the Integrated Test Range's (ITR) launch complex-4.
The Agni-V launch is the fourth developmental and second canisterised trial of the long-range missile, ANI reported. The first test was carried out on April 19, 2012, the second on September 15, 2013 and the third on January 31, 2015 from the same base.
This missile is the most advanced as it has new technologies incorporated in it with regard to navigation and guidance, warhead and engine. Agni-V, which has a range of 5000 kms, has been designed to carry more than one-tonne warhead. The 17-metre long and 2-metre wide Agni-V has a launch weight of around 50 tonnes.
Several new technologies were tested with success in the first trial. The missile includes navigation systems, very high accuracy Ring Laser Gyro based Inertial Navigation System (RINS) and the most modern and accurate Micro Navigation System (MINS). These features had ensured that the missile reached its point of target within a few metres of accuracy, PTI reported.
The agency quoted an official as saying that the high-speed on board computer and fault tolerant software, along with robust and reliable bus, guided Agni-V flawlessly.
The missile has the capability of striking targets across Asia and into Europe and has been designed to transport by road through the utilisation of a canister-launch missile system. It can also reach northern China and can carry several re-entry vehicles that can be targeted independently.
India currently has Agni-I with 700 km range, Agni-II with 2,000 km range, Agni-III and Agni-IV with 2,500 km to over 3500 km range. Agni-V has the farthest reach among all Indian missiles and will be inducted into services after a few trials.