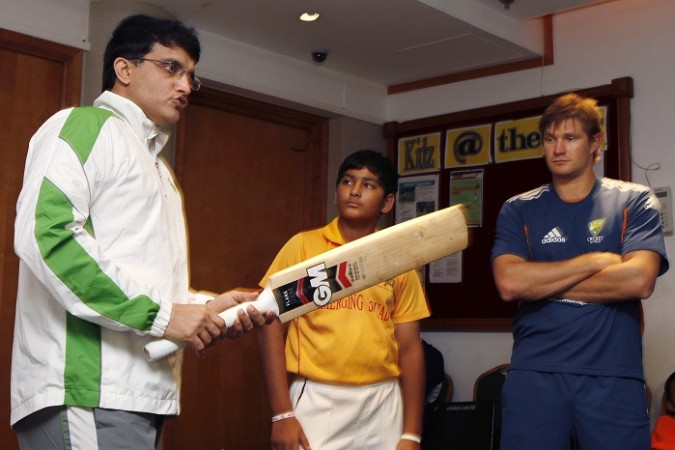 Sourav Ganguly, who may be in the running for the coveted post of coaching the India cricket team, has ruled out any chances of taking over from Ravi Shastri, even if he is offered the job. The former India cricketer wants to focus on his current role as the president of Cricket Association of Bengal (CAB).
Though Ravi Shastri is currently looking after the affairs of India cricket in the capacity of a team director, the cricketer-turned-commentator's tenure with the squad ends after the conclusion of the T20 World Cup in India in April.
The India team have played decent cricket with Ravi Shastri at the helm, as they reached the semifinals of the 2015 World Cup in Australia and New Zealand, which was the former India all-rounder's major test. India also won the Test series against South Africa and Sri Lanka last year, while starting the year brightly in the T20 format, defeating Australia, even if they lost the ODI series.
However Shastri's biggest test lies in the upcoming World T20 in India, where the home team are said to be the favourites to clinch the title for the second time. Winning the title could make him an ideal candidate as a full-time coach. With Shastri also having received the blessings of Test captain Virat Kohli as a permanent coach, the team director may be well continue in his role beyond the World Cup.
If one looks at the other options available, former India cricketers such as Sourav Ganguly is the only other strong candidate. May be the situation could change if India decides to rope in a foreign coach with former cricketers like Stuart Law having showed some interest in the challenging job.
However, Ganguly has made it clear that he will not be available even if a chance comes by, with the administrative responsibilities of CAB his current priority.
"I really don't know as I have got another job to do at the moment. I am actually running the cricket [as CAB president]. You can't do both at the same time. You have to see where life goes. At the present moment, 'No' [to coaching] as I am an administrator with responsibilities of running the game," Ganguly was quoted by IANS.
Ganguly is also a part of the high-profile Cricket Advisory Committee (CAC), which is expected to help the BCCI in picking the next coach for India. Sachin Tendulkar and VVS Laxman are the other two members of the committee. However Ganguly is not even aware if the CAC exists at present.
"To be honest, I don't know whether that committee exists at all. I think the team is doing well and maybe we will have to think about it in future," Ganguly said.