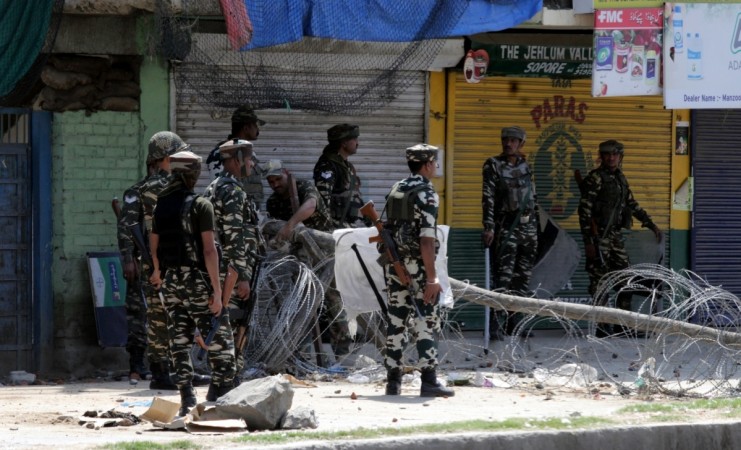 Foreign Secretary S Jaishankar a day ago issued a strong demarche to Pakistan High Commissioner Abdul Basit in New Delhi over cross border terrorism emanating from that country. The National Investigation Agency (NIA) on Wednesday furnished more proof, including a confession video of captured terrorist Bahadur Ali, to bolster New Delhi's hand in its debate with Islamabad over terrorism.
The video shows Bahadur Ali speaking to the camera and confessing how he was recruited, trained, armed and infiltrated into India. Throughout the course of the confession, he names not only those who prepared him for a terror attack in India, but also Lashkar-e-Toiba (LeT) founder and Jamaat-ud-Dawa chief Hafiz Saeed, who he said was present during one of the training sessions.
Bahadur Ali's confession also blows the lid off the Pakistani armed forces' involvement in exporting terrorism to India. During the confession, he is heard saying he and some others were taken to a detachment at the Line of Control (LoC) along the India-Pakistan border and given equipment like $3,500 night-vision goggles for their mission.
The NIA said Bahadur Ali had confessed that Pakistani Army personnel had visited the detachment in civilian attire and examined their preparedness with a check-list. They were referred to as "major sahab" and "captain sahab," which corroborates what the Udhampur attack accused, terrorist Naveed had revealed.
And that seems to be just the tip of the iceberg, with an NIA spokesperson saying: "What I will say during the course of this press conference will be based on oral, documentary and other kind of evidence gathered during the course of this investigation."
He said Bahadur Ali's capture had yielded unicode sheets, GPS trackers and a very powerful radio transmission set. Four terrorists killed following information revealed by him had similar equipment on them. "The engineering modifications made on these Japan-made sets to cover the whole range of VHF requires a very high degree of training in electronics," said the NIA spokesperson, indicating further involvement of the Pakistani defence establishment in terror activities.
"Bahadur Ali was in India for almost a month before he was captured, and was in constant contact with a person in Pakistan, named Al Fathri," said the NIA spokesperson.
"LeT cadres had been successful in fuelling a large-scale disturbance in Kashmir after Eid, subsequent to the death of Burhan Wani," said the NIA spokesperson, adding that the LeT's role in the Kashmir unrest was being still probed.
"Bahadur Ali was recruited into Jamaat-ud-Dawa by close aides of Hafiz Saeed in 2008-09 in his village, and was initially given the task of collecting jihad funds," he said, adding: "Maulana Abdur Rahim, who belonged to LeT, radicalised him and made him join LeT by showing video films on alleged atrocities on Muslims in different parts of the world, including India."
He also said Bahadur Ali underwent all three training courses that LeT has for its members. "He said there are at least 30-50 trainees in each of the courses that run throughout the year, and these include Pashto-speaking individuals from the Afghanistan-Pakistani border. Hafiz Saeed himself participated in one of the rituals during the third training course Bahadur Ali attended," said the NIA spokesperson.
Meanwhile, Ali also confessed on the video that the person who helped them cross the LoC and infiltrate into India had told him he was communicating with someone in the Pakistani defence establishment. When Bahadur Ali asked him what would happen if there was firing from the Indian side while they were crossing the border, the man told him there would be retaliatory firing and that everything would be fine.
Watch the video of the confession Bahadur Ali delivered here: