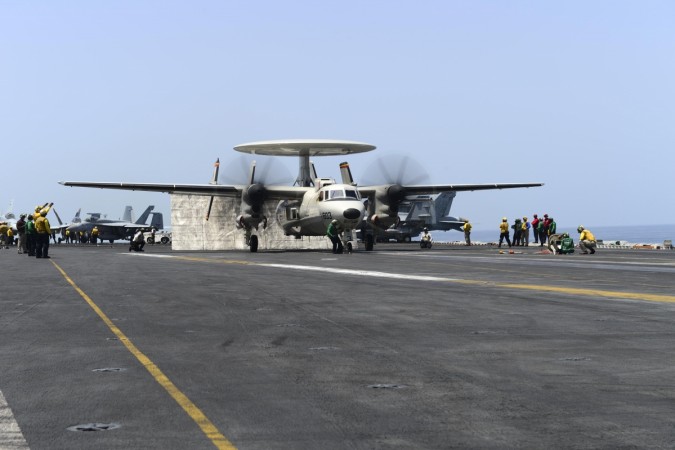 Indian Navy is reportedly looking to buy four E-2D Advanced Hawkeye for the 65,000-tonne planned aircraft carrier INS Vishal (also IAC-II).
The E-2D Advanced Hawkeye is an airborne early warning (AEW) aircraft that will be operate from aircraft carriers. Northrop Grumman manufactures this twin-turboprop aircraft that the US, French and several others navies have been using for shore-based operations.
A retired Naval Commodore confirmed the possibility of Indian Navy buying these AEW aircraft from the US, IDRW reported.
The E-2D Advanced Hawkeye serves as a "digital quarterback" that gives navies expanded battlespace awareness with "battle management theatre air and missile defence, and multiple sensor fusion capabilities."
The aircraft provides 360-degree radar coverage with all-weather tracking, new and powerful AN/APY-9 radar, fully integrated "All Glass" tactical cockpit, new mission computer and tactical workstations, electronic support measures, advanced Identification Friend or Foe system, modernized communications and Data Link Suite.
The platform can be used for command and control, too, as it has multi-mission capability. This is the only AEW platform that that operates from aircraft carriers.
India and the US have a Joint Working Group on Aircraft Carrier Technology Cooperation under the larger India-US Defence Technology and Trade Initiative (DTTI). The Indian side held discussions with its US counterparts when the former visited the under-construction state-of-art aircraft carrier PCU Gerald Ford and the US Navy's research and development facilities for aircraft carrier launch and recovery systems in September 2015.
INS Vishal is currently in the design phase, and is likely to be India's first nuclear-powered flat-deck aircraft carrier that might also feature the Electromagnetic Aircraft Launch System (EMALS) — the newest aircraft catapult systems.
The retired Naval Commodore said the E-2D Advanced Hawkeye platform will "ensure security and stability of Carrier Battle Groups." India plans to have three Carrier Battle Groups.
It recently brought the refurbished INS Vikramaditya aircraft carrier from Russia and is indigenously developing INS Viraat in Kochi. But INS Vishal will be a complex ship, featuring several new and advanced technology and systems.
Meanwhile, France's Dassault Aviation is offering the Rafale M carrier-borne fighter to be part of the INS Vishal aircraft carrier, IHS Janes reported.
Dassault executives made a presentation to the Indian Navy on Jan. 29, showcasing the benefits of the twin-engine Rafale M as it would be easier for sourcing spares from the Indian Air Force's Rafale Cs, 36 of which will arrive in India in flyaway condition.
Previously, a MiG Russian Aircraft spokeswoman had revealed the readiness of her company to supply additional MiG-29K/KUB aircraft for INS Vishal. Indian operates MiG-29K/KUB from INS Vikramaditya.