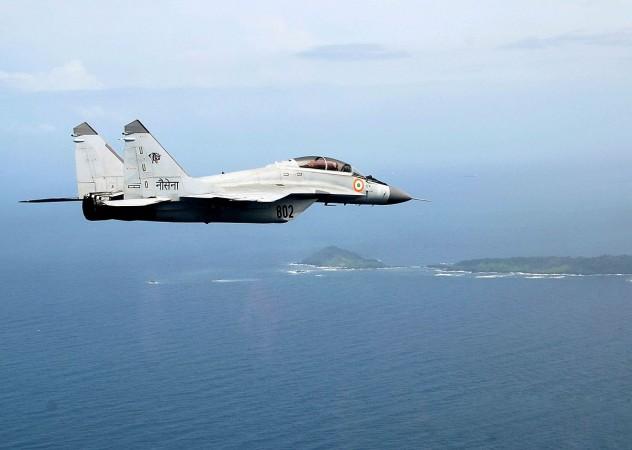 In a move that will prove the resilience of the Russian machine and further strengthen the co-operation between India and Russia, MiG Russian Aircraft Corp has assured that it is ready to comply with any Indian request to supply additional MiG-29K/KUB aircraft for the in-development aircraft carrier INS Vishal of the Indian Navy.
Anastasia Kravchenko, spokeswoman of MiG Russian Aircraft, told RIA Novosti (via R&I Report) that the company was ready to supply the aircraft in case of new proposals being put forward by the Indian Defence Ministry.
"MiG and India's Ministry of Defence are long-term partners. We are linked by many years of successful cooperation. We would certainly be ready to supply fighter jets for the new aircraft carrier," she said. She was referring to the India's biggest aircraft carrier, INS Vishal, which is still in the design phase. INS Vishal, when ready, will be able to operate 50 aircraft.
INS Vikramaditya, the modified Admiral Gorshkov aircraft carrier currently in the Indian Navy inventory, operates MiG-29K/KUB aircraft. The Indian Navy has received 23 MiG-29K/KUB aircraft and had contracted Russia to supply 29 to operate from aircraft carrier.
Unlike INS Vikramaditya, INS Vishal is not likely to feature Short Take-Off But Arrested Recovery (STOBAR) but is likely to go in for Catapult Launched But Arrest Landing (CATOBAR) and Electromagnetic Aircraft Launch Systems (EMALS) -- something that will be featured in USS Gerald R. Ford when it is commissioned in 2016.
INS Vishal will also be a heavier with 65,000 tonnes of expected displacement and possible nuclear powered.
Business Line reported that India has sent letter of interest to several companies including that of Russia, US, France and UK for fighter jets that will be operating from the new aircraft carrier.
Experts have argued over diversifying carrier-based aircraft and going in for the MiG-29K/KUB as it is economically and strategically a better option. But with the Indo-US defence ties improving at a rapid phase and recent reports suggesting that India was interested in the naval version of Dassault's Rafales, India could look at the best option on the table.
Nevertheless, MiG-29K/KUB aircraft boasts of being a "4++" multirole aircraft that is "intended air-defence missions of naval forces, air superiority gaining, sea and ground targets destruction with the high precision guided weapons day and night and in any weather conditions."
The aircraft also has improved airframe with high composite material content, fly-by-wire flight controls with quadruple redundancy, reduced signature in radar range increased weapons load, increased internal fuel capacity and in-flight refuelling and more.