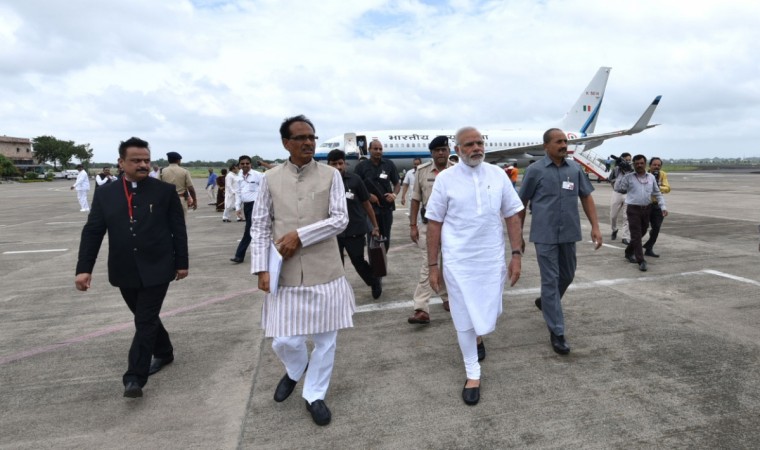 Prime Minister Narendra Modi on Tuesday said India loves Kashmir, but a few misled people were being forced to take up stones and weapons against the country. He also urged people who had taken up arms in the name of Maoism or terror to lay down their weapons and take up agriculture.
He was speaking at the inauguration of the 15-day "70 years of Independence" celebrations at Bhabhra in the Alirajpur district of Madhya Pradesh, the birthplace of martyr Chandrashekhar Azad. The 15-day celebration is officially called "Zara Yaad Karo Kurbani."
Addressing a crowd that chanted patriotic slogans from time to time, Modi also thanked political parties in the country on uniting over the Kashmir issue, adding that Kashmir wants peace, and the Central and the state government would do whatever was necessary to give it to them. "The freedom our freedom fighters gave India is also enjoyed by Kashmir," he said, urging residents of the state to help convert it into heaven on earth.
"Where boys should have laptops, balls, bats, books in their hands, they are being handed stones," Modi said of the "misled" youths of Jammu and Kashmir, in reference to the unrest in the state that has followed the death of self-styled Hizbul Mujahideen commander Burhan Wani. He, however, said "Kashmiriyat" would not be allowed to be tarnished or hurt.
Then, in a sweeping statement, he urged extremists of all ideologies to shun the path of violence. "I urge those who have taken up arms in the name of Maoism or terror to lay down their weapons, pick up the spade and join agriculture. Let's cover dry land with lush greenery," he said.
Earlier in his address, Modi spoke of electrifying the nation within 1,000 days, saying there were 18,000 villages without electricity when he came to power. "People in these villages lived in the 18th century," he said.
Talking of the government's promise to provide electric supply to the whole of India within 1,000 days, he said: "It has not even been a year [since the government began implementing the promise], and already more than half the villages have received electric supply."