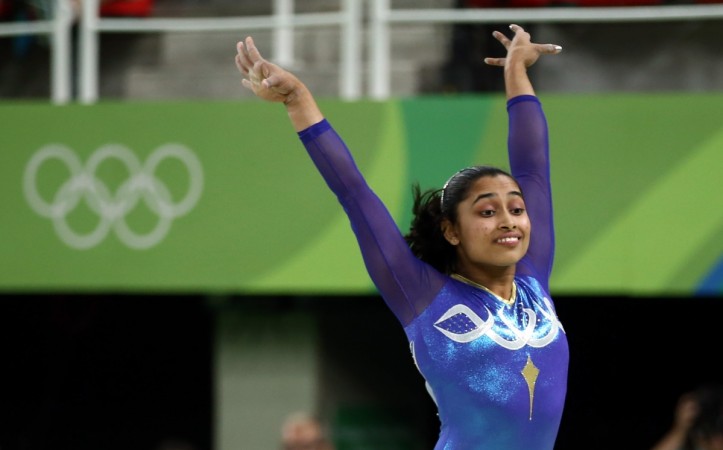 "#StrokeOfMidnight of our 69th Independence Day, the nation is thinking of a female athlete. I think this is rather appropriate. #DipaKarmakar [sic]," wrote Mumbai-based radio jockey Rohini Ramnathan on Twitter as the world remained witness to the young Indian's achievements in the grandest sporting stage of all on Sunday.
Dipa Karmakar, a 23-year-old gymnast from Agartala, Tripura, unknown until a few weeks back, is suddenly the talk of the nation. And there are plenty of reasons for that as well. Dipa finished fourth in the women's vault finals on Sunday -- missing the medal by just a whisker. However, we aren't complaining as she created milestones while reaching the position she is at the moment.
In April 2016, she became the first Indian women gymnast to qualify for the Olympics and on Aug. 7, she became the first gymnast ever from India to make it to the finals of an event at the games. Another milestone was in store for Dipa on Sunday, Aug. 14, as she was so close in bagging the bronze medal, until Simone Biles of America displayed her magic at the Rio Olympic Arena, taking home the gold as well as pushing Dipa to the fourth position.
"At the stroke of today's midnight hour, when the world sleeps, India will awake to life and freedom. A moment comes, which comes but rarely in history, when we step out from the old to new, when an age ends, and when the soul of a nation, long suppressed, finds utterance," mentioned Pandit Jawaharlal Nehru in his famous "Tryst with Destiny" speech, towards the midnight of Aug. 15, 1947, the eve of India's Independence.
History, quite miraculously, repeated 69 years later as Dipa, a sporting personality, and a hard-working man called Bisweswar Nandi (her coach) were making the country proud in the grandest stage of them all.
"I am proud of the way she has performed. Some people tell me I don't have a son, but I tell them I don't need a son when my daughter is doing me so proud. She is my son. I don't feel the absence of a son." - Dulal Karmakar, Dipa's father told The Hindu.
I have adjusted and made the sacrifice [of staying away from my husband for his coaching duties]. Had I not made the sacrifice, Dipa Karmakar would not have been Dipa Karmakar today." - Soma Nandi, wife of Bisweswar.
The 23-year-old did finish 0.150 points away from the bronze medal and the disappointment was indeed visible on her face but little did she know she inspired a billion Indians on the eve of the nation's 69th Independence Day, just at the stroke of the midnight hour.
The 'Produnova vault', the biggest weapon in her artistic gymnastics armoury, landed her a score of 15.266 and moved her up to the second position for a while, but the feats from Russia and USA later prevented her from achieving the dream which she had -- a medal in Olympics.
"Thank you for your prayers and wishes, I'm so happy I did my job and finish fourth. I want to thank my coach Mr. Nandi, my parents, gymnastics federation, Sports Association of India (SAI), my team Go Sports for supporting me. Happy Independence Day. Jai Hind," said the visibly media shy Dipa in a video posted on her Twitter account.
Abhinav Bindra, India's first-ever gold medallist in an individual sport in the Olympics, said:
Dipa Karmakar you are my hero! [sic]"
Akshay Kumar, Bollywood actor and a fitness champion, wrote:
You may have lost but you've won a million hearts and inspired a lot more to walk your path. Cheers to your spirit #Dipa Karmakar! #Proud [sic]"
Amitabh Bachchan, legendary Indian film actor, posted:
T 2348 - #DipaKarmakar .. the pride of India .. your story is what compels us to do better ... and we will !! Many congratulations !! [sic]"
Sachin Tendulkar, India cricket legend, mentioned Dipa in a tweet:
Winning & losing is a part of sport.. You've won millions of hearts & the entire nation is proud of ur achievements. [sic]"
The Sports Authority of India shared the same sentiments to Dipa:
U r d real gold 4 India. Ur performance at #Rio2016 is inspiration 2 all Sports persons & lovers. Entire Nation is proud of you. [sic]"
"Kabhi haar, kabhi jeet [in sports, you win and lose both]," said Dipa in a video interview to the ANI after the event. As an athlete, the mantra remains that you should never be satisfied with you performances but look further to bettering what you performed a day before, and Dipa exactly knows that. Tokyo Olympics 2020 remains her target now and what we, as viewers, can see from a distance, the confidence and tenacity and the persistence can surely land her to greater heights in the coming years.
Only one concern remains though, her safety, which we feel will not scare her anymore.