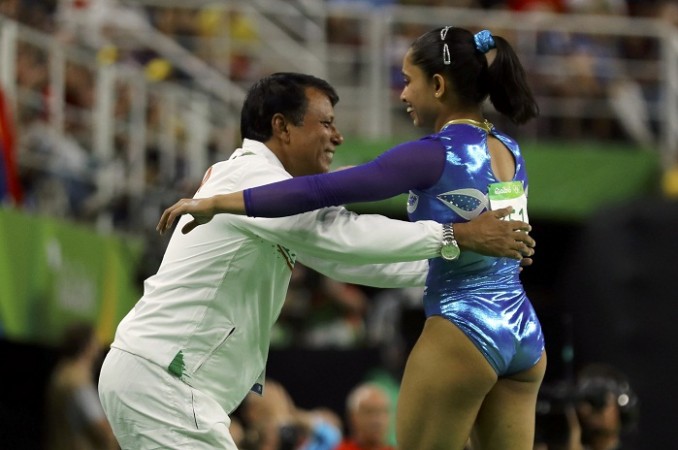 Gymnast Dipa Karmakar may not have won a medal in Rio Olympics, but she did win hearts of millions in India. The first Indian woman gymnast to qualify for the quadrennial event went on to reach the finals, where she missed bronze by a whisker, but the Tripura girl has set her eyes on gold in Tokyo 2020.
The Indian gymnast missed the bronze medal by a whisker in the vault finals, with a score of 15.066 on Sunday. Giulia Steingruber finished third with 15.216. Had Dipa landed better on her Pradunova vault, the 23-year-old could have helped India win their first medal in Rio.
Dipa, who finished fourth, is not disappointed, considering she was making her Olympics debut in Rio.
"For me this is my first Olympics. But I don't need to be disappointed I will give my best in Tokyo 2020. I'm fully satisfied with my performance. This is my highest score. But the medallists were better than me. Maybe, it was not my day," Press Trust of India quoted Dipa as saying.
"It's my bad luck that I missed the bronze medal by a few points. But no problem, I never expected this fourth place finish in my first Olympics. I never expected a medal honestly. My first target was to better my scores in the two vaults, and I succeeded in doing that. Whatever I had learnt, I managed to perform."
With the performance she put up in the vault finals, which included few world champions, Dipa has a great future ahead of her. She has age by her side, and can perform her level best in the future years to come, and wants to win gold in Tokyo in 2020 Olympics.
"I never expected a medal from this Olympics but to have come fourth is very creditable. In boxing, wrestling you get a bronze even when you finish fourth but not for me. It was very close to medal. After four years, my target would be gold," Dipa said.
Dipa, with her achievements, has placed India in the map of global gymnastics, and the Tripura girl can play an important role in helping the sport gain popularity in the nation too.