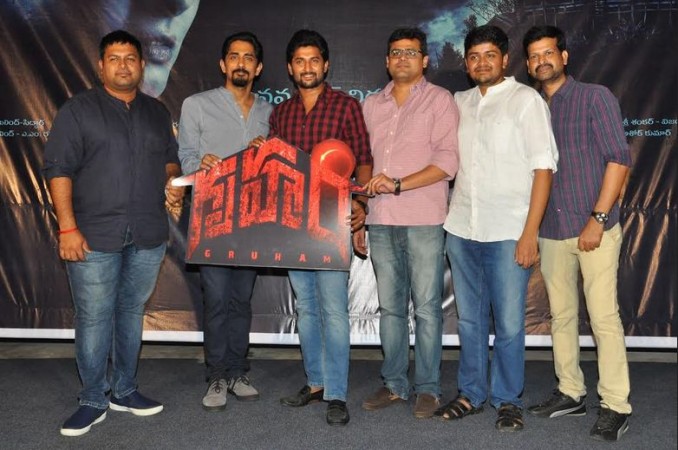 Actor Nani is all praises for director Milind Rau, Siddharth and Andrea Jeremiah for their work in Gruham and says India has not witnessed a horror movie like it for long.
Gruham is the dubbed version of Tamil horror movie Aval and its trailer has created a lot of curiosity among the film goers. The movie is set to hit the screens on November 3 along with its original version. The makers held a promotional event in Hyderabad on Monday and Nani took some time off his busy schedule of MCA to be the chief guest on the occasion.
Addressing the press meet of Gruham, Nani could not stop sharing his excitement over watching its trailer, "I was in Warangal shooting for MCA when I saw the trailer of a Tamil film called Aval and got really scared. Then two days later, Siddu sent the Telugu version of the same trailer to me," he said.
"Milind has done an amazing job. It has been a long time since India has witnessed such a horror movie and I think it will leave a mark. After Dhayyam and Conjuring, a film that really scared me is Gruham. The film will be a sure shot hit," the Nenu Local star added.
Siddharth said, "I love the horror genre. I love how these films don't require a hero because the fear factor is itself the hero of the film. With a desire to come up with something new, we put in a lot of effort into the film. It's not easy to do a horror flick. We showed the film to over 200 friends and tried to understand and rectify errors. You can imagine the work that went into it considering nearly four and a half years went into it."
"Milind and I love Ram Gopal Varma's films. Him being the godfather of horror films, we loved Dhayyam and Bhoot. No other films have been able to reach that level. We hope our film will manage to do so. The kind of response that the 'Mottam meere chesaru' dialogue from Bommarillu got, I feel that will repeat with the film," Siddharth added.
Director Milind Rau shared, "Siddharth and I joined Mani Ratnam sir as assistants at around the same time. Ours is a friendship of 16 years. I love the horror genre and always wanted to make a different film in that arena. And that's why I toiled for 4 and a half years to come up with the script. We have tried to bring is several thrilling moments that the audience would never have seen before. The Telugu audience has always encouraged new directors. I hope I get a similar reception."
SS Thaman said, "Siddharth and I know each other since the time we co-starred in Boys and both of us have really come a long way since. His love for films is immense and that's why he has had the rare opportunity to have co-started with several renowned actors in the country."
He added, "Girish has given good music. It's not easy to scare people and doing so using music is a tough job and I think he has aced it. He will get a good recognition after the film and I hope it's a hit."
Music director Girish said that he is excited to make his debut in Telugu. "Rahman has written great lyrics. I noticed how it has come out better than in Tamil. Milind gave me lot of freedom which pushed me to give my best," he said