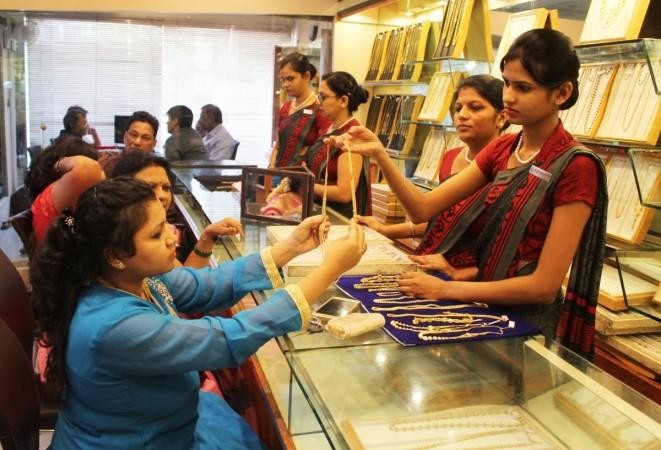 Gold demand for the quarter ended March 2017 (Q1) rose 15 percent to 123.5 tonnes in India, the second-largest global consumer of the yellow metal. In sharp contrast, the global gold demand fell 18 percent to 1,034.5 tonnes.
However, the increase needs to be seen in the context remaining low at 107.3 tonnes in March 2016 quarter due to the strike by jewellers against the re-introduction of 1 percent excise duty and the appreciation in rupee that made gold imports cheaper.
When see from a value perspective, the demand increased 18 percent to Rs 32,420 crore from Rs 27,540 crore in in the corresponding period last year, according to the World Gold Council (WGC) that released its "Gold Demand Trends" report on Thursday.
Jewellery demand rose by 16 percent to 92.3 tonnes in Q1 from 79.8 tonnes in the year-ago period, and in the process, lifted global jewellery demand.
"Gains in India were the main reason for the slight y-o-y increase, but global jewellery demand remains relatively weak in a historical context," the WGC said in its report. Global jewellery demand for gold remained almost flat at 480.9 tonnes but below the five-year quarterly average.
In contrast, jewellery demand fell 2 percent in China to 176.5 tonnes.
The second quarter (April to June) is also likely to be robust given the 30 percent rise reported on Akshaya Tritiya this year when compared to last year.
Overall, global gold demand fell 18 percent to 1,034.5 tonnes, year-on-year.
Central banks cut purchases
Buying by central banks of the yellow metal saw a 27 percent drop to 76.3 tonnes in Q1 from 104.1 tonnes in the year-ago period. "Looking towards the longer-term trend, demand for gold among central banks has broadly slowed since reaching a peak of 174.9t in mid-2014. This lower rate of purchases is likely to continue throughout 2017," the WGC said.
Demand for gold bars, coins show mixed trend
China saw a 30 percent spurt for gold coins and bars in Q1 to 105.9 tonnes in comparison to 14 percent rise in India at 31.2 tonnes. "India's bar and coin demand inched up, but remains at historically low levels. The industry, however, is confident the market will recover as the aftershock of demonetisation wanes," according to the WGC report.
Gold stocks gain
Titan shares were trading 1.06 percent higher at Rs 489, PC Jeweller 0.21 percent up at Rs 427 and Tribhovandas Bhimji Zaveri shares were trading with gains of 2.70 percent at Rs 95 on the BSE at around 2.50 pm.