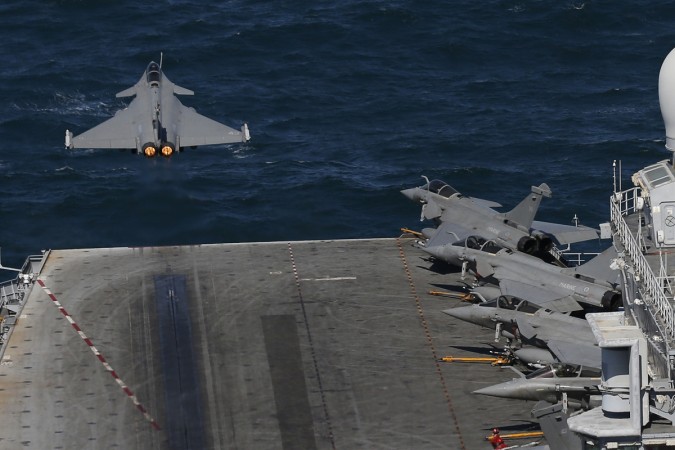 India inked a deal with France on September 23 to buy 36 Rafale fighter jets for €7.8 billion (Rs 59,000 crore).
The deal was signed by Defence Minister Manohar Parrikar and French Defence minister Jean-Yves le Drian, who had flown down to New Delhi specially to ink the historic deal that will eventually expand Indian Air Force's inventory.
The deal includes state-of-art Meteor missile, which is an advanced, beyond-visual-range air-to-air missile (BVRAAM) with a range of 150km, SCALP missiles, which are air-launched cruise missiles with a range of over 300km, and MICA air-to-air missiles.
Reports said the Rafale aircraft will have at least 12 India-specific enhancements. The deliveries are to begin within 36 months and will be completed by 66 months.
The Rafale combat aircraft is a 4.5 generation, twin-engine, canard delta wing, multirole fighter aircraft that has over 3,700km range and features an aerial refuelling probe, and 14 hardpoints for IAF's version.
The Cabinet Committee on Security (CCS) chaired by PM Narendra Modi cleared the deal on Wednesday amid rising tensions over Pakistan's support to Kashmir unrest and terrorism.
It took 17 months of prolonged negotiation for the deal to go through, after PM Modi announced India's intention to buy 36 Rafales directly from France in a government-to-government deal in April 2015.
India had scrapped an earlier contract for 126 combat jets as part of its Medium Multirole Combat Aircraft (MMRCA) competition, in which Dassault Rafale was selected against the likes of Boeing F/A-18E/F Super Hornet, Eurofighter Typhoon, Lockheed Martin F-16 Fighting Falcon, Mikoyan MiG-35, and Saab JAS 39 Gripen.
Unlike the MMRCA project, this deal does not have any "Make in India" aspect and all the 36 jets will be coming to India in "fly-away" condition.
India is to pay around Rs 9,000 crore as first instalment, reports noted.
India is down to 33 fighter squadrons (16-18 jets each), while the requirement is for 42-44 fighter squadrons if a war breaks out in two theatres, one on the Pakistani side and another on the Chinese side.
India becomes the third country after Egypt and Qatar to order Rafale aircraft from France.