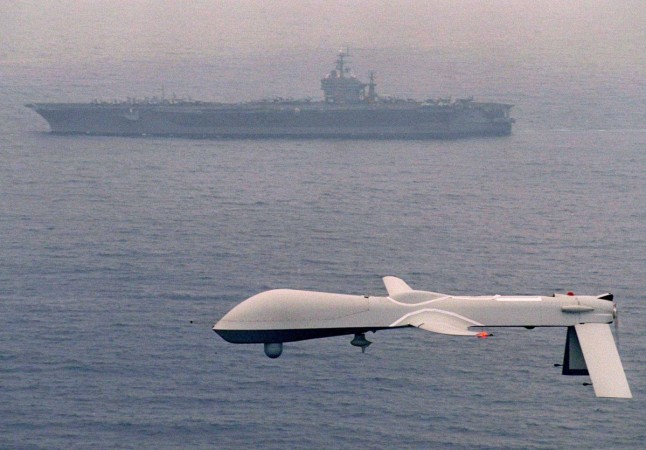 This is not the first time that reports have emerged suggesting India's intentions of acquiring armed drones, especially, the deadly General Atomics MQ-1 Predator from the United States. However, this probability looks more likely as Defence Minister Manohar Parrikar is expected to be in Washington D.C. next week.
India's recent entry into the elite Missile Technology Control Regime (MTCR) could also offer some help in the country's efforts to acquire the Predator drones. But The Economic Times noted that that previous attempts by India to acquire the drones went in vain with the Americans bringing up international export controls for Predator drones.
Predator drones would allow the Indian Air Force (IAF) to target high value terrorists with minimum civilian casualty and without requiring deployment of manned-assets. It is also one of the options for IAF to neutralise terrorist training camps on the other side of the borders.
Predator drones have proved their effectiveness in the lawless regions of Afghanistan-Pakistan border, where the U.S. has taken down several high value targets.
For any sale, the U.S. insists and considers it essential for countries to sign military pacts like the Communication Interoperability and Security Memorandum Agreement (CISMOA) and Basic Exchange and Cooperation Agreement (BECA). But India is averse to these and many political parties in the opposition believe that it would compromise India's nonaligned posture.
Nevertheless, India is expected to sign a new agreement, Logistics Exchange Memorandum of Agreement (LEMOA), during Parrkar's visit. LEMOA would allow India and the U.S. to share their facilities.
The report quotes sources as saying that India's bid to acquire such armed drones goes under the codename "Cheetah" and was renewed after a gap of four years in September 2015. The previous central government of Manmohan Singh had stalled the project.
Predator is not the only armed drone that India is looking to procure. Earlier reports had suggested that India had in 2015 green signalled a $400 million proposal to buy Heron TP drones from Israel. But India is yet to ink a deal with Israel as it considers the option of buying Predator drones.
Moreover, India is working on an indigenous drone programme called the Rustom 2, which will eventually feature weaponisied versions too. But it is years away from completion.
India also operates several fleets of Israeli made Heron and Searcher UAVs, which are normally used for surveillance and intelligence gathering. Another deadly UAV in India's inventory are Harpy UAVs, which can self-destruct on impact.
Meanwhile, an unarmed version of the Predator drone is being offered for an Indian Navy reconnaissance requirement.