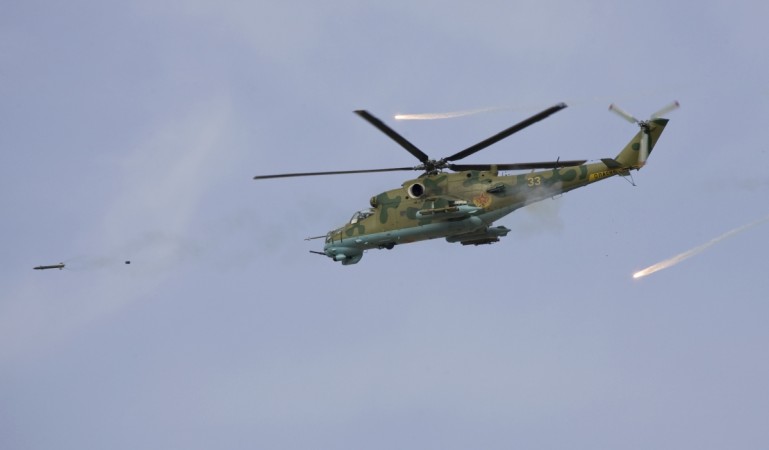 India's delivery of the fourth Mi-25 (Mi-24D) helicopter gunship to Afghan Air Force on Saturday is testament to India's resolve to help the Afghan people in reconstruction of their country in the face of opposition from Taliban. India remained undeterred by calls from Taliban and other pro-Pakistan groups urging the country against arming Afghanistan with helicopter gunships.
This delivery also concludes the deal for four such gunships, a first for India in supply of lethal military weaponry to Afghanistan's Afghan National Defence and Security Forces (ANDSF), Khaama Press reported.
Though the Mi-25 is of Russian origin, India has extensive knowledge on its usage as it has been one of its oldest operators. Afghan pilots also receive training in India.
Afghanistan had received six Mi-25s from the Czech Republic as part of Equipment Donation Programme in 2008.
Previously, reports had noted of difficulty with spares from Russia, but this issue has been since "sorted out."
The first three of the Mi-25 gunships were delivered in December 2015, before Indian PM Narendra Modi visited Kabul to inaugurate the new Parliament, constructed through India's help.
Following the fall of the Taliban regime in 2001, by US and British forces, India has been a key donor in the reconstruction of the war-torn country. India has been involved in socio-economic rebuilding in Afghanistan and had committed $2 billion for the country.
Meanwhile, India is also exploring options to support Afghanistan in spares and support following its recent sale of gunships. This assistance will be part of its long-term support, the Hindu reported.
This will be a trilateral framework, inclusive of Russia, from which India sources its spares for Mi-25 helicopters and other helicopters that is Afghan Air Force inventory.
Further discussions on this are most likely during the upcoming Heart of Asia conference in Amritsar, India, when both Russia and Afghanistan's President will be part of it.
According to defence and diplomatic sources, two Indian Air Force technical teams visited Kabul to make an assessment over the requirements for spares and repair, needed to restore Afghanistan's Soviet-era helicopters and transport aircraft. Afghanistan has some An-32 medium transport aircraft, which have been grounded for some time.
So the IAF team will be submitting a report after assessing the Afghan requirements and what India can provide from its existing inventory and what it needs to procure from Russia. "Based on that we will work out a model with Russia where they will supply the necessary equipment and we will pay for it," said a defence ministry source to the Hindu.
Further, India has previously supplied three Cheetal utility helicopters in 2015.
Kabul has been pushing India to offer it offensive military hardware, something New Delhi has resisted to offer for fear of opposition from Pakistan. But with PM Narendra Modi in power, India has shifted its policy of not giving Afghanistan offensive military weapons. Afghanistan has also requested India to provide it with tanks, artillery, ammunition and spares. But it is not clear how far India can go in arming Afghanistan with tanks or artillery. But India is intent on building a stable and peaceful Afghanistan.
Heart of Asia conference
India is hosting the sixth Ministerial Conference of the Heart of Asia meet on December 4 in Amritsar, Indian state of Punjab.
India is hoping to send a strong message to Pakistan and wants to highlight the importance of regional connectivity.
Pakistan has been an obstacle in road connectivity between India and Afghanistan, as it only allows the trucks from Afghanistan to carry goods via Pakistan but only up to Wagah (a check-point on the Pakistani side of Pakistan-India border), and not up to Attari (a check-point on the Indian side of the India-Pakistan border), Deccan Herald reported.
The goods that arrive from Afghanistan in Wagah have to be unloaded and reloaded in other vehicles before being sent to Attari, which is around 3km from Wagah.
The goods have to be unloaded from trucks coming from Afghanistan in Wagah and loaded again on other vehicles to be brought to Attari.
The place chosen by the Indians is also significant because Amritsar is only 30km away from the Attari-Wagah border between India and Pakistan.