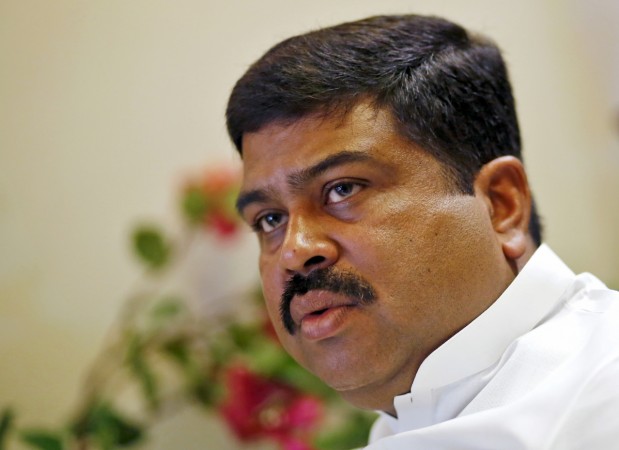 Reducing its dependence on oil, India wants its economy to be driven by gas, Dharmendra Pradhan, the country's oil and natural gas minister, told Reuters. Currently, oil accounts for a quarter of the country's energy needs, while the share of gas stands at 8 percent.
"Gradually we are shifting towards a sustainable gas economy," he was quoted.
India's commitment at world fora to bring down its existing emission rate by one third by 2030 will require sustained adoption of cleaner fuels, the news agency said.
Government data suggests that the daily gas requirement stands at 78 million cubic metres a day (mscmd) today, and is expected to jump to 117 mscmd in 2021-22.
This fiscal year to March, India's gas production declined by about 4.2 percent and imports rose around 15 percent. To rev up domestic production, the country also liberalised its gas price regime, reported the Financial Times.
In order to push the idea further, the minister since assuming charge has visited a host of its main oil suppliers like Saudi Arabia, the United Arab Emirates and Iran to deepen ties. Recently, the country negotiated better terms for a long-term LNG deal with Qatar. India's main importer of liquefied natural gas (LNG), Petronet, too is renegotiating price of gas from Exxon's Australian project, said Reuters.
On acquisition of foreign assets to promote India's cause, the minister noted that Iran has set aside its Farzad-B gas field for development by Indian firms. A move, he added, could help India construct an LNG plant there for both India's consumption and marketing.
The minister expressed hope that the slumping Asian LNG prices over two years will further boost heavy investments into LNG projects.
"The price should be affordable to us. We respect long-term contracts but everybody has to appreciate the changing scenario," said Pradhan. "In a bigger canvas ... India has the potential of a huge market base," he added.
India as the world's third-largest energy consumer with low per capita usage has one of the highest annual rates of consumption growth, according to the FT report. It added that India could monetise more than $28 billion from unexploited gas reserves of around 6.75 trillion cubic feet from the existing and future discoveries.
India's Gas Connectivity
The minister emphasised that the country had built import terminals on both its eastern and western coasts, and is also constructing pipelines within the country to give a fillip to gas usage in industries.
Its most recent investment in Kerala's energy terminal remains underutilised for lack of pipelines connecting to industrial hubs, reported Reuters.