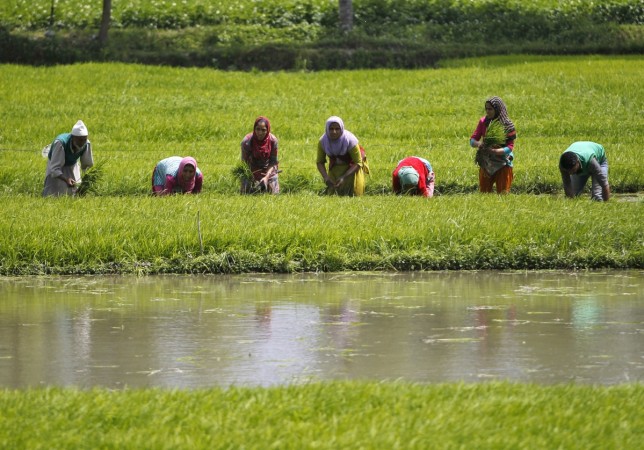 Agricultural output in India is expected to double this financial year from last fiscal's estimated 0.8 percent on forecast of an above-normal monsoon by the country's official weather forecaster, says an economist.
"We have pencilled a modest annual pick-up of 1.6% this year, which along with improving industry and service sectors back our 7.6% GDP estimate," Radhika Rao, economist, Group Research, DBS Bank, said in a note on Friday.
Asia's third-largest economy had suffered two straight years of drought leading to a sharp decline in agricultural output, besides a spate of suicides by farmers and weak demand. Agriculture accounts for about 17 percent of the country's gross domestic product (GDP).
The official India Meteorological Department (IMD) had predicted a 94 percent "probability that monsoon will be normal to excess" early this month.
Earlier, private forecaster Skymet had made a similar prediction.
"Monsoon 2016 is likely to remain above than the normal at 105% (with an error margin of +/-4%) of the long period average (LPA) of 887 mm for the four-month period from June to September," it said on April 11.
The official growth estimate for the agricultural sector is 1.1 percent for financial year 2015-16, up from a decline of 0.2 percent, according to an update released by the Indian Ministry of Statistics & Programme Implementation on Feb. 8, 2016.
Good monsoon key to demand, inflation
A good monsoon augurs well not only for the agricultural sector, but also for the industry, since a lot of demand comes from rural India, especially for fast moving consumer goods (FMCGs) and automobiles.
For instance, domestic FMCG company Dabur India derives almost 55 percent of its revenues from from rural India, according to a note by financial services firm ICICI Securities Limited on March 21.
"It will be one of the largest beneficiaries of revival in rural demand," the note further said, referring to Dabur.
The company had reported a 16.6 percent growth in consolidated net profit to Rs. 331.90 crore and 10.9 percent increase in revenues to Rs. 2,157.3 crore for the fourth quarter ended March 2016, according to a regulatory filing on Thursday.
A favourable monsoon and consequently high agricultural output also holds the key to keep inflation under check. Retail inflation, or consumer price index (CPI), eased to 4.83 percent in March from 5.18 percent in the previous month.