Joe Root did his best, but he was always fighting a losing battle as India, led by the inimitable R Ashwin, wrapped up a comprehensive 246-run victory over England on day five of the second Test match in Visakhapatnam. With the win, India took a 1-0 lead in the five-match series, with the next Test now in Mohali later this week, while also extending their home unbeaten run to 16.
While R Ashwin and Ravindra Jadeja picked up a couple of early wickets, that of Ben Duckett and Moeen Ali, it was Jayant Yadav and Mohammed Shami who broke England's back, with the dismissals of Ben Stokes and Joe Root.
Root looked determined to stay at one end, no matter what – be that the ball turning, staying low, doing nothing off the pitch, being given out and going for a successful review or being dropped at leg-slip by Virat Kohli – before Shami got that reverse-swing mojo of his working to perfection, and with Stokes gone a little before that courtesy Jayant, England fell to 142 for seven in 93 overs at Lunch.
Jadeja and Ashwin opened the day, expectedly, and they were right on the money from the beginning. The ball, again, wasn't turning too often, there was only the odd one that varied in bounce, but the fact that they were accurate, meant the pressure was always on England.
What also helped was that Ben Duckett, who had fallen to R Ashwin twice already in this series, was at the crease. The left-hander looked a lot more assured playing Jadeja, but the moment he faced Ashwin, all those problems came to the fore.
After defending reasonably well for four deliveries, Ashwin got one to come with the angle and bounce a little more than normal. Duckett (0, 16b) went for the swipe to the leg-side, but the ball only found his glove, before hitting the pads and looping up nicely to wicketkeeper Wriddhiman Saha.
Moeen Ali (2, 31b) came in and blocked 30 balls, before the 31st proved to be one too many. Bowling from over the wicket, Jadeja got one to just bounce a touch more while pitching it off the rough and a bat-pad fell into the lap of Virat Kohli at leg-slip.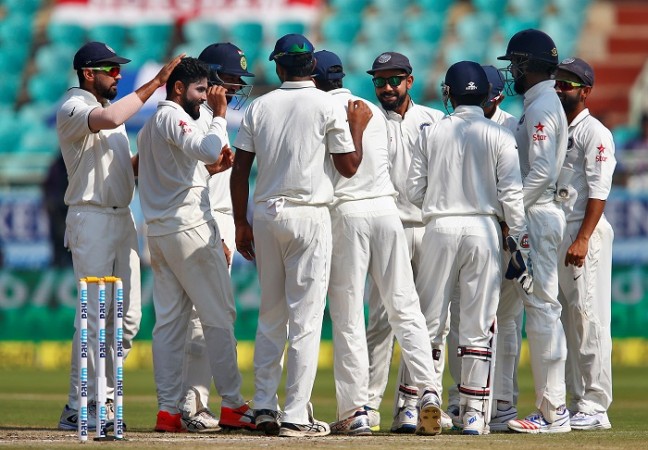 England still had hope, as long as their two best batsmen in this series so far – Joe Root and Ben Stokes – stayed at the crease, but after another brief(ish) partnership, Stokes was dismissed by an absolute peach from Jayant. Bowling with a relatively new ball – India took the option at the first time of asking, in the 81st over – Yadav, who had pushed a couple through with the angle at Stokes, got one to drift in, grip off the pitch, bounce and turn away. With Stokes (6, 33b) unable to get his bat to it, the ball went on to clip off-stump.
It got better for India soon after with Shami proving his worth by getting the ball to reverse swing off just the seventh over with the new ball. One that tailed-in late at pace was too much for even Root (25, 107b, 3x4), who was struck in front, with Hawk Eye showing the ball would have crashed into leg-stump.
Shami then got Adil Rashid (4, 6b, 1x4) as well caught behind, leaving India needing just three more wickets for a win in the last two sessions.
That came quickly enough, despite Jonny Bairstow's quick innings of 34 n.o. (40b, 7x4), with Ashwin castling Zafar Ansari, before Jayant capped a wonderful Test debut by picking up the final two wickets – that of Stuart Broad and James Anderson, both out lbw.
Scores: First innings: India: 455 all out in 129.4 overs.
England: 255 all out in 102.5 overs.
First innings lead: 200 runs for India.
Second innings: India: 204 all out in 63.1 overs.
Target: 405.
England: 158 all out in 97.3 overs.
Overnight score: 87/2 in 59.2 overs.
Result: India won by 246 runs, second biggest against England in terms of runs.
Bowling: Second innings: India: Mohammed Shami 14-3-30-2; Umesh Yadav 8-3-8-0; R Ashwin 30-11-52-3; Ravindra Jadeja 34-14-35-2; Jayant Yadav 11.3-4-30-3.
Fall of wickets: Second innings: England: 75/1, Haseeb Hameed (50.2 overs); 87/2, Alastair Cook (59.2 overs); 92/3, Ben Duckett 64.5 overs); 101/4, Moeen Ali (74 overs); 115/5, Ben Stokes (85.4 overs); 115/6, Joe Root (87 overs); 129/7, Adil Rashid (90.4 overs); 143/8, Zafar Ansari (94.3 overs); 158/9, Stuart Broad (97.2 overs); 158/10, James Anderson (97.3 overs).
Watch the highlights of the final day HERE