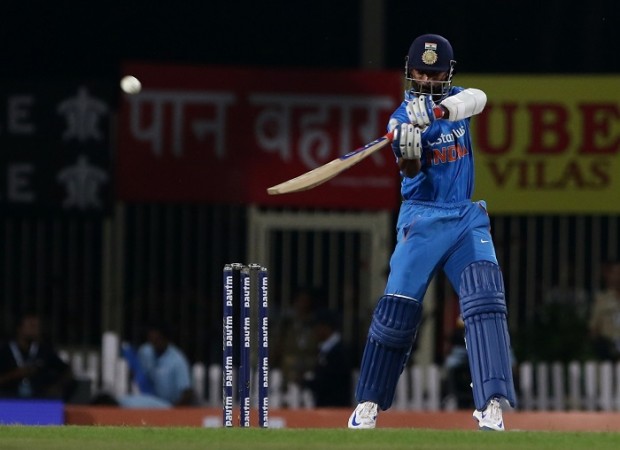 A team of MS Dhoni, Yuvraj Singh, Hardik Pandya and Ashish Nehra might seem stronger, but it was the second India 'A' squad, captained by Ajinkya Rahane, that got the better of England in a warm-up match in Mumbai on Thursday.
India vs England limited-overs series to go ahead
After England had chased down a total in excess of 300 with relative ease on Tuesday, Eoin Morgan decided to bat first this time around.
And that decision did not go too well:
Alex Hales, Jason Roy and Jonny Bairstow gave England a strong start, before a collapse threatened to completely derail the England innings. A last-wicket partnership rescued England a little, with the away team finishing on 282 all out in 48.5 overs.
India 'A' replied in brilliant fashion:
They made mincemeat out of the England bowlers from ball one. Rahane led from the front with a 91 (83b, 10x4, 1x6), with fellow opener Sheldon Jackson (59, 56b, 7x4) also chipping in with a half-century.
The Rishabh Pant show
Rishabh Pant (59, 36b, 8x4, 2x6) brought the crowd at the Brabourne Stadium to their feet with a wonderful knock, before Suresh Raina (45, 34b, 7x4) brought all his finishing skills and experience to the fore. Raina fell with India 'A' needing 15 more, with Deepak Hooda (23 n.o., 20b, 2x4) and Ishan Kishan (5, 9b, 1x4) taking their team home with 10.2 overs to spare.
Roller-coaster ride
England's innings was a bit of a roller-coaster, with the top three giving them a searing start, before it all went wrong when the spinners came in, only for a last-wicket partnership to bring the score back to "we can try and defend this" again.
Hales and Roy are one of the most dangerous opening pairs in international cricket and they showed why again, putting on 42 runs in double quick time. What the two need to work on is staying together for a longer period of time, with Roy, in particular, having the penchant of throwing his wicket away.
Roy (25, 15b, 6x4) was the one to be dismissed in the final ball of the fifth over, even if the batsman, this time, was unlucky, getting out hit-wicket to Pradeep Sangwan, who otherwise had a forgettable time with the ball.
Hales and Jonny Bairstow, though, continued the momentum, putting on 74 runs.
England racked up 81 runs in the first ten overs, with Roy, Hales (51, 53b, 8x4) and Bairstow (64, 65b, 10x4) punishing the India 'A' fast bowlers. Siddharth Kaul only went for 11 runs in his two overs during that spell, but Sangwan and Ashoke Dinda conceded 44 and 26 runs each from five and three overs respectively, allowing England to get off to a flying start.
Big collapse
That solid base fell down from under them when the India spinners came into play, with Shahbaz Nadeem and Parvez Rasool bringing India back. From 116/1 in the 17th over, England crashed to 211/9 in 39 overs, with hopes of a 350 plus score, which looked on when the top three were going all guns blazing, crashing in a hurry.
David Willey (38 n.o., 30b, 2x4, 2x6) and Adil Rashid (39, 42b, 4x4), though, then put on a really good partnership for the final wicket, adding 71 runs together to ensure they would have something to defend.
Scores: England: 282 all out in 48.5 overs.
India 'A': 283/4 in 39.4 overs.
Result: India 'A' won by six wickets with 62 balls to spare.
Bowling: India: Pradeep Sangwan 6.5-0-64-2; Siddharth Kaul 6-0-31-1; Ashoke Dinda 8-1-55-2; Shahbaz Nadeem 10-0-41-2; Vinay Kumar 7-1-47-0; Parvez Rasool 10-1-38-3; Deepak Hooda 1-0-6-0.
England: Chris Woakes 7-1-54-0; David Willey 5-0-32-1; Jake Ball 6-0-46-1; Ben Stokes 4.4-0-30-0; Adil Rashid 7-0-51-1; Moeen Ali 7-0-46-1; Liam Plunkett 3-0-24-0.
Fall of wickets: England: 42/1, Jason Roy (5 overs); 116/2, Alex Hales (17 overs); 116/3, Eoin Morgan (18.1 overs); 163/4, Jonny Bairstow (27 overs); 164/5, Jos Buttler (27.2 overs); 165/6, Moeen Ali (28.1 overs); 190/7, Chris Woakes (34 overs); 198/8, Ben Stokes (36 overs); 211/9, Liam Plunkett (39 overs); 282/10, Adil Rashid (48.5 overs).
India: 119/1, Sheldon Jackson (18.5 overs); 197/2, Rishabh Pant (27.3 overs); 233/3, Ajinkya Rahane (32.1 overs); 268/4, Suresh Raina (36.4 overs).