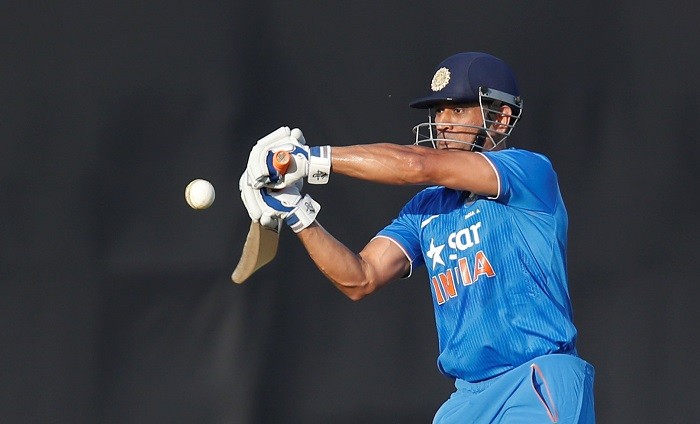 MS Dhoni treated a sizeable crowd at the Brabourne Stadium to some vintage hitting in his last game as captain in India colours, but it was Sam Billings who stole the show, helping England to an impressive victory in a warm-up match in Mumbai on Tuesday.
Wanting to see the great man in action for the first time since he made the "no more captaincy" decision and with the CCI making entry to the stadium free, a wonderful crowd poured in and they were treated to an outstanding game of one-day cricket.
India 'A', asked to bat first, put on 304 in their 50 overs, with Ambati Rayudu getting a hundred, while Shikhar Dhawan, Yuvraj Singh and Dhoni all struck impressive half-centuries.
In reply, England stayed in touch with the asking rate throughout the innings, with Sam Billings' 93 (85b, 8x4) taking the away team to a three-wicket victory with seven balls to spare.
England began the chase splendidly, with Jason Roy taking on the early aggressor's role. Alex Hales took a while to find his rhythm, but once he did, England looked like going their merry way to the target. Getting to 95 in the 15th over, without too much trouble – there was one chance that Dhawan spilled in the slips – England looked on course to cruise to the target, before Dhoni's spin plan brought India right back.
Kuldeep Yadav was the one to find the breakthroughs, with the chinaman bowler getting both Hales and Roy in the space of two overs. Hales (40, 37b, 6x4, 1x6) was the first one picked up, with Kuldeep getting the right-hander to drive one uppishly to Sanju Samson, who took a fine catch in the covers.
Roy (62, 57b, 9x4, 2x6) then holed out in the deep while going for a slog sweep, leaving England in a bit of trouble. That only increased when Eoin Morgan (3, 6b) was brilliantly caught by Dhawan at first slip, the captain quite unlucky to be walking back after the India fielder held on one-handed off a reverse-sweep that was well hit.
Jos Buttler and Billings brought England back with a partnership of 79 in just a shade over 12 overs, before Kuldeep, again, struck twice to dent England's chase. Buttler (46, 38b, 3x4, 2x6) holed out at long-off, while Moeen Ali (0, 2b) was trapped in front going for a sweep shot.
The good thing for England, however, was that the required run rate was still only around a run a ball and with Billings in the middle and the batting lineup quite deep, it was still the away side's game to lose.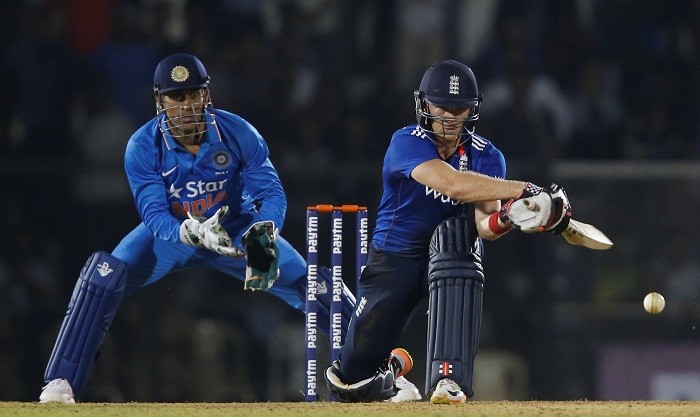 So it proved to be too, with Billings bringing his finishing skills to the fore. The manner in which the right-hander kept hitting the gaps to find the boundaries was great to watch and the India pacers had no answers.
Dhoni had no choice but to go to his spinners again, but now with the chase under England's control, Billings and Liam Dawson could afford to just pick them off for singles and twos, which was all the chase required, really. As good as Billings was, though, India's fielding was also shoddy, with a few catches going down, and on a flat track as this one, that was always going to be punished.
England again lost a couple of wickets in a hurry late one, with both Dawson (41, 47b, 3x4, 1x6) and Billings leaving, but by then all the away side required were 15 from four overs, which Chris Woakes (11 n.o., 12b, 2x4) and Adil Rashid (6 n.o., 9b, 1x4) picked off.
Three of India's key batsmen in the ODI squad had a good hit out in the middle in the first innings, which bodes well for the series coming up. Dhawan opened the batting with Mandeep Singh, and while the latter fell early, castled by David Willey, Dhawan found his touch, spanking quite a few cover drives and hitting boundaries at will.
Dhawan's 63 (84b, 8x4, 1x6) set the innings up for India 'A', with Ambati Rayudu the chief scorer in the innings. Rayudu took his time initially, but once he came to terms with the pace of the pitch, he got a move on to great effect.
Rayudu might not be the most pleasing-to-the-eye player you will ever see, but when he is in touch, he is quite effective, as the England bowlers found out. The right-hander put on 111 runs with Dhawan, before adding another 91 with Yuvraj.
The moment Rayudu (100, 97b, 11x4, 1x6) completed his hundred, with a quick single to mid-off, he retired, allowing the 20,000-plus crowd to witness the man they had come to see. Dhoni walked in to a thunderous cheer, and after taking a few balls to get his eye in, he finished the innings like only he can.
At the other end, Yuvraj helped himself to a handy 56 (48b, 6x4, 2x6), with the left-hander getting that willow of his working like a dream. It would have been a great sight for Virat Kohli to see, because, with an in-form middle order that contains Yuvraj and Dhoni, India's batting might goes up a few levels.
Dhoni (68, 40b, 8x4, 2x6) was expectedly treated to a lot of short balls from the England pacers, but the India captain – well, for this game at least – knowing what was coming adjusted quite well, smashing quite a few of those deliveries to and over the fence.
The piece de resistance came right at the end, when Dhoni took Chris Woakes for 23 runs off the final over of the innings, which pushed India's total beyond the 300-run mark.
Scores: India: 304/5 in 50 overs.
England: 307/7 in 48.5 overs.
Result: England won by three wickets with 1.1 overs remaining.
Bowling: England: Chris Woakes 10-1-71-0; David Willey 10-1-55-2; Moeen Ali 10-0-42-0; Jake Ball 10-0-61-2; Adil Rashid 8-0-49-0; Liam Dawson 2-0-24-0.
India: Ashish Nehra 6-0-50-0; Hardik Pandya 9.5-1-48-1; Mohit Sharma 9-0-58-0; Yuzvendra Chahal 10-0-56-1; Kuldeep Yadav 10-1-60-5; Yuvraj Singh 4-0-32-0.
Fall of wickets: India: 25/1, Mandeep Singh (7.3 overs); 136/2, Shikhar Dhawan (28.4 overs); 227/3, Ambati Rayudu (41 overs); 250/4, Yuvraj Singh (45 overs); 257/5, Sanju Samson (45.5 overs).
England: 95/1, Alex Hales (14.3 overs); 106/2, Jason Roy (16.2 overs); 112/3, Eoin Morgan (18 overs); 191/4, Jos Buttler (30.2 overs); 191/5, Moeen Ali (30.4 overs); 290/6, Liam Dawson (45.1 overs); 290/7, Sam Billings (46.1 overs).