After a rather smooth match in Adelaide, where both the teams were not willing to fire verbals at each other, Perth saw quite a bit of frayed tempers. Indian captain Virat Kohli, who seldom does hold himself back, was quite vocal all through the match and kept directing comments at the Australians.
At one point in the match, the umpires had to intervene to separate the two skippers as both of them were in no mood to land a verbal blow. Former Australian bowler Mitchell Johnson, however, has slammed the Indian captain and has termed his behaviour 'inappropriate and silly'.
"He is the No.1 batsman in the world at the moment and what he does for his team is great but I'm not sure this is how your captain should behave," Johnson wrote in his column for Fox Sports.
'Kohli gets away with most things'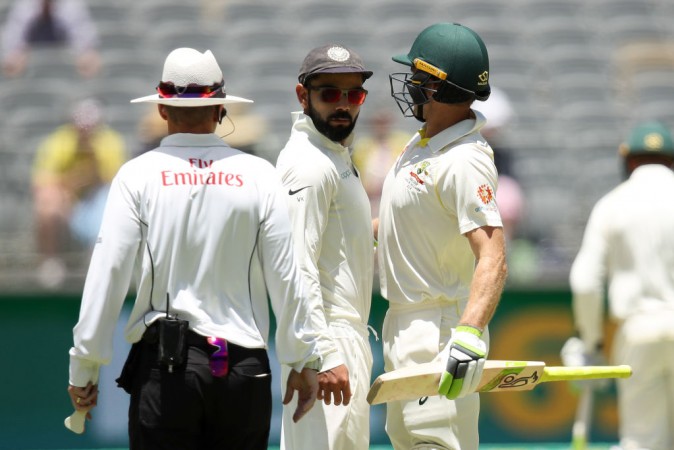 Speaking about the match, the fast bowler also believed that after the match was over, both sides should keep their differences aside and shake hands in a cordial manner and this is where Kohli's attitude looked silly.
"Virat Kohli could not do that with Tim Paine, shaking the Australian captain's hand but barely making eye contact with him. To me, that is disrespectful," he added.
The big quick also noted that Kohli keeps doing the same things and that not much had changed since the 2014 tour, but he gets away with it simply because he is Virat Kohli.
"Kohli gets away with more than most cricketers simply because he is Virat Kohli and he gets placed on a pedestal but this Test left the Indian captain looking silly," Johnson observed.
The former quick also wrote that he was impressed by the way Tim Paine handled himself and stood up for his side, but did not find the same with Kohli, who despite scoring a hundred in the first innings, did not acknowledge the reception of the crowd as he was sore with the decision of the umpire.