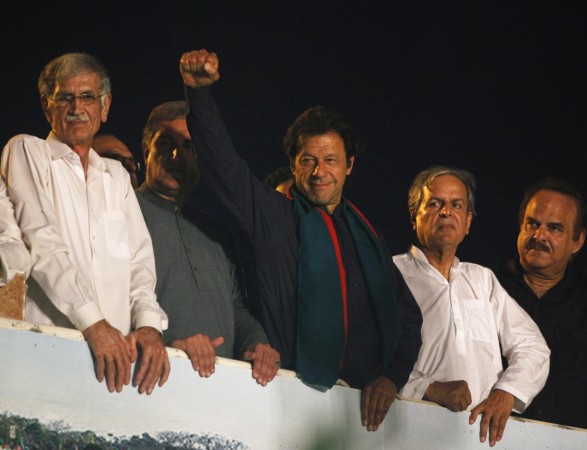 Former captain of the World Cup winning Pakistani cricket team and chairman of Pakistan Tehreek-i-Insaf (PTI) Imran Khan seems to have followed the trend among Pakistani politicians to blame India in order to deflect any criticism from their public or media.
Khan has now pointed fingers at India and has accused it of sabotaging his party's "reform movement"
The PTI chief went on to say that India knows that it cannot defeat Pakistan's militarily, and was hence trying to "implode" Pakistan under a new "doctrine".
According to Khan's India doctrine, "India wants to create chaos in Pakistan and wants the ongoing reform movement against corruption in the country to fail."
In reference to the recent Quetta Police Academy attack he said, "It is strange that whenever we start doing something, something major happens in the country." He even suggested that the attack could be part of the Indian doctrine of chaos in Pakistan.
Khan's comments seem unwarranted as the Islamic State has claimed responsibility for the attack, New York Times reported.
Khan's outburst might not go down well with the hawkish media and the current government of Prime Minister Narendra Modi, which has accused Pakistan of sponsoring terrorism and even accused it of being the "mother-ship" of terrorism. Pakistan has constantly denied such charges.
Elaborating further, Khan suggested that India was helping the current Pakistani PM Nawaz Sharif. He said whenever Sharif comes under pressure, tensions between the two nuclear-armed countries increase.
He also claimed that Sharif was not speaking up on alleged involvement of India in Balochistan. India has denied any involvement in Balochistan.
Khan also added that Sharif was silent on links between Indian spy agency RAW and Muttahida Qaumi Movement (MQM) chief Altaf Hussain. He went on to say that Nawaz Sharif was a "security risk" for Pakistan.
PTI has been accused by Sharif government of encouraging militants and jihadis for its lockdown plan on November 2.