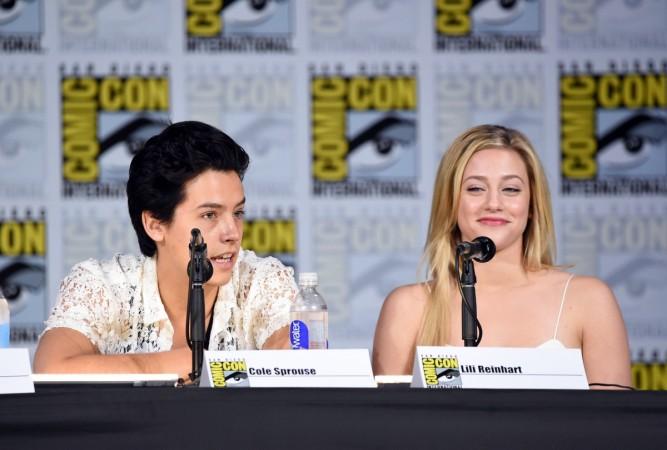 Lili Reinhart dodged Harper Bazaar questions about her relationship with her Riverdale co-star Cole Sprouse. The Betty Cooper actress has been long linked to the actor but the actors have chosen to keep their relationship details under the wrap.
So when she was in a conversation with the magazine, for their new issue, she was asked about her love story and Reinhart said she doesn't want people to know. She shot down all questions about her relationship with Sprouse and hinted people should leave her personal life alone.
"I'm not okay talking about my relationship. I'm not going to tell you my love story. That's just not appropriate right now," she said.
Reinhart also expressed she was tired of shutting down false rumours. "Am I pregnant? Am I dating someone? Am I gay? Am I gaining weight? Am I homophobic?... People will always have something to say," she said.
"I've accepted that. It doesn't mean it's not frustrating when people say those things. It's not like it just rolls off my back," she added.
It is not only her relationship that she has chosen to stay quiet about. The 23-year-old was in the news when a few of her statements, at the time of the release of Riverdale, were misinterpreted. Having learnt her lessons, she is extremely careful of what she's going to say or do.
"I had said a lot of things right in the beginning of Riverdale coming out that people took the wrong way. I had to be like, 'No, no, no, that's not what I mean' and backtrack a little bit. We are in a time where people are insulted by everything," she said.
Now, she vows to give her voice to the issues that are important to her. "I choose my battles now. If it's something that I'm passionate about, I'm going to talk about it. I'm going to say that I don't approve of our president, I'm going to say that I don't approve of a lingerie line only having skinny models."
Reinhart returns to the sets of Riverdale to film the third season soon. While she says that she has no idea of what will happen in the upcoming episodes of the show, Lili feels like that her character, Betty deserves a break in the new season. In the past seasons, Betty broke up and reunited with her boyfriend Jughead, the revelation about her long-lost brother's murder; her father's unmasking as the "Black Hood".
"In the season finale, when you saw Betty and Jughead in bed together, she's smiling when he says, "Will you be my serpent queen?" [Aguirre-Sacasa] told me, 'When I watched that scene and I saw Betty smile, it made me want more of that," she said. "I think the girl deserves a break," she added.