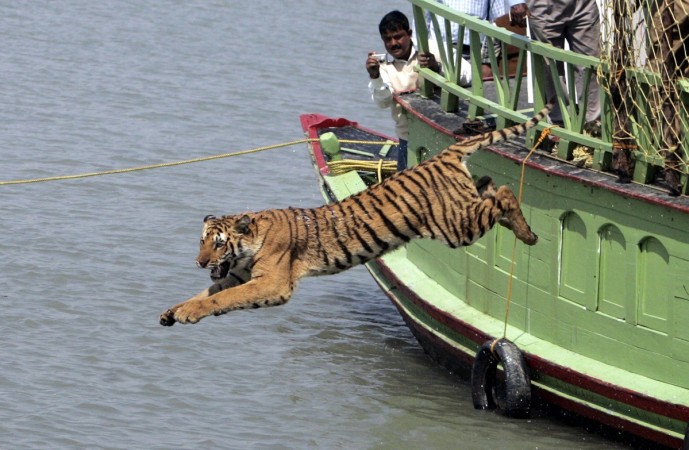 Iconic tiger Jai "has been poached", Bhartiya Janata Party (BJP) MP from Bhandara-Gondia Nana Patole said on Monday.
However, Patole didn't have any evidence to support his claims. He said that tourist-friendly tigers like Jai have not been seen in the Umred Karhandla Wildlife Sanctuary (UKWS), their home range, since five months, which "proves that it has been harmed."
"It is sad that the forest department cannot save even a radio-collared tiger. I will file a complaint on Tuesday with Prime Minister Narendra Modi," the MP told the Times of India, demanding action against forest officials for not being able to protect the tiger. Prime Minister Narendra Modi is the chairman of the National Board for Wildlife (NBWL), India's highest wildlife decision-making body.
"Jai had its own style. He was a known cattle lifter wherever he went. In the past five months there have been no reports of cattle kills in Jai's area. The massive search for him in Chandrapur, Bhandara, Gadchiroli and Nagpur districts too proved futile. Forest officials are just lying about Jai still being alive, without producing any proof," Patole said, adding that the iconic tiger's "grandfather Rashtrapati, father Dendu and sibling Viru too are missing, but no action has been taken against forest officials."
The last time Jai's radio caller emitted signals was on April 18 from a place called Kodurli before going dead. According to forest officials investigating the matter, Jai got electrocuted on a farm fence. The farm owners burnt him on the spot fearing an attack.
However, the forest department has not declared the tiger dead in official records. "Jai not being sighted doesn't mean that it is dead. If there is no proof that he is alive, there is also no evidence that he is poached," District Forest Officer and Wildlife Wing Spokesperson GK Vashisht told TOI.
Several NGOs have demanded an SIT probe into the matter. "Forest officials are not serious about the investigations as they know that several heads will roll if the truth comes out," Vineet Arora and Sarosh Lodhi of Conservation Lenses & Wildlife (CLAW) was quoted by the daily as saying. They had offered a reward of Rs. 50,000 for solid evidence on Jai.
Researchers at the Wildlife Institute of India (WII) tried to track Jai with the help of VHF antenna but failed to get any signals.
Maharashtra Chief Minister Devendra Fadnavis and forest minister Sudhir Mungantiwar had announced on Global Tiger Day on July 29 that Jai was alive and that forest officials will soon provide evidence, the daily reported.