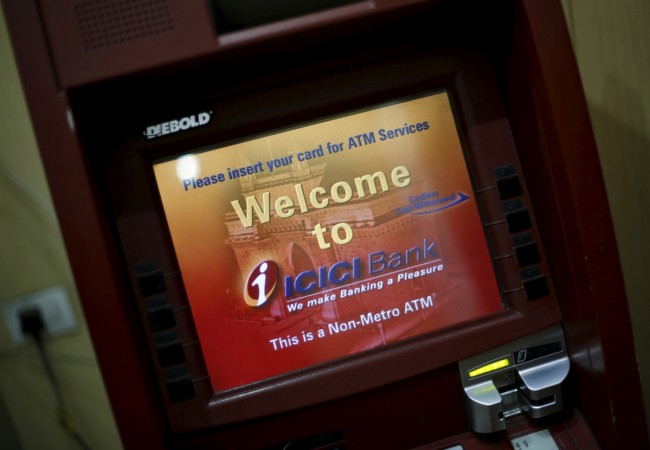 ICICI Bank, India's largest private sector lender by assets, reported 2.38 percent increase in standalone net profit at Rs 3,102 crore for the quarter ended September 2016 (Q2) though provisioning for bad loans rose multi-fold to Rs 7,082 crore. Net profit was Rs 3,030 crore in the year-ago period.
The share price of the bank closed 3.36 percent higher at Rs 278.75; the results were declared after market hours.
On a sequential basis, net profit grew 38.9 percent from Rs 2,232 crore, according to a statement issued by the bank.
The sharp rise in provisioning for bad loans was due to additional provisioning of Rs 3,588 crore, the bank said.
"The bank further strengthened its balance sheet by making additional provisions of ₹ 3,588 crore ($539 million) which comprise the following: provisions of Rs 1,678 crore ($252 million) for standard loans; entire loss of Rs 395 crore ($59 million) on sale of NPA during the six months ended September 30, 2016 (H1-2017), which is permitted to be amortised as per Reserve Bank of India (RBI) guidelines, recognized upfront, and of floating provision of Rs 1,515 crore ($227 million)," the bank said in a statement.
The net interest income grew marginally to Rs 5,253 crore in Q2 from Rs 5,257 crore in the corresponding period last year.
Other income rose three-fold to Rs 9,119 crore in Q2 from Rs 3,007 crore, YoY on account of its partial stake sale in its life insurance business.
"During Q2-2017, ICICI Prudential Life Insurance Company (ICICI Life) completed an initial public offer (IPO) of equity shares. The Bank sold approximately 12.63 percent shareholding in the IPO. Other income for the quarter includes gains of Rs 5,682 crore relating to this sale of shares. Excluding gains relating to sale of shares of ICICI Life, the non-interest income grew by 14 percent year-on-year in Q2-2017," the bank said in a statement.
On the non-performing asset (NPA) front, the bank reported a sharp rise in gross NPAs and net NPAs at 6.82 percent and 3.57 percent, respectively, from 3.77 percent and 1.65 percent respectively, as of September 30, 2015.
The results are fairly positive, according to an analyst at Angel Broking.
"Slippages of Rs 8,000 crore was in line with what we were expecting. Though in absolute terms, slippages looks still high, the good news is that ~80 percent of the slippages has come from the watch list and restructured book. While next quarters the slippages and credit cost will remain high, going by the current quarter it seems the bank will largely be able to clean up the book and start looking at regular growth from 2HFY18," Siddharth Purohit, Sr. Equity Research Analyst- Banking, Angel Broking, said in a note.
The return on assets declined to 1.70 percent for Q2 from 1.89 percent in the year-ago period, though up from the June quarter figure of 1.27 percent.
Domestic advances grew 16 percent and total deposits rose 17 percent, YoY.
Shares of its subsidiary ICICI Prudential Life Insurance closed almost flat at Rs 303.50 on the BSE.