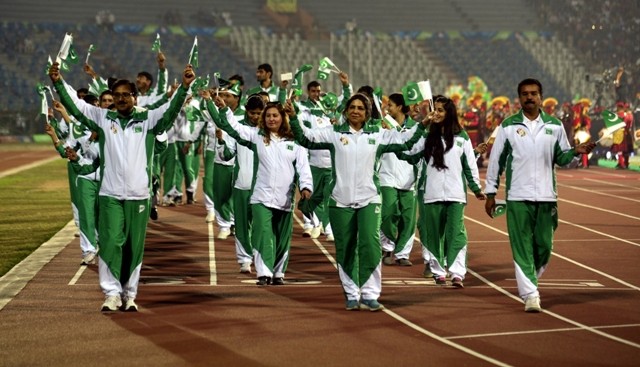 While the PCB (Pakistan Cricket Board) still awaits a confirmation from the Pakistan government over the team's participation in the ICC World T20 2016, scheduled to start in March in India, senior IPS officer R K Sharma insists Pakistan should take a cue from the South Asian Games 2016.
The recently-concluded South Asian Games in Guwahati and Shillong saw more than 300 athletes from Pakistan participate and win plenty of medals. No security threat was witnessed in the 11-day event.
Sharma, who was the South Asian Games 2016 Organising Committee CEO for the Shillong leg, stated that the athletes from Pakistan never complained of any security concern and they enjoyed themselves to the full during the quadrennial event in India.
"By hosting over 300 Pakistani top athletes and officials for over two weeks during the South Asian Games at the highly volatile region of Assam and Meghalaya we have showed that security is not a concern," Sharma, also a recipient of Indian Police Medal in 1997, was quoted by the Press Trust of India on Wednesday.
"It was fully incident free and ask anyone from Pakistan about their experience here and they would tell you," he added.
One of the most glorious moments of the 12th South Asian Games saw three female boxers from Pakistan -- Khoushleem Bano, Rukhsana Parveen and Sofia Javed -- battle conservative mindsets back in their nation to make their dream come true of getting on the ring and make history.
"It was not an easy path for us when we shared our idea of women taking up the macho sport in a conservative country like Pakistan. There were a lot of anti-groups who didn't accept us," Bano was quoted by the AFP.
Taking everything into account, the ball is really in the court of the Pakistan government to come out with a decision on their cricket team's participation in the ICC World T20 2016. The PCB was also confident that the ICC would not punish them if they follow Cricket Australia's decision of not fielding the Australia U-19 side in the recently-concluded U-19 World Cup in Bangladesh this year.
"Has the ICC taken any action against them (Australia)? All cricket boards, when it comes to security and safety issues, have to depend on advice from their governments," a PCB official was quoted on Tuesday.
The proposal of having Pakistan's matches in the ICC World T20 2016 being played on a "neutral venue" was also raised by the PCB, but the ICC have reserved their comment as yet on this.
India are scheduled to play Pakistan in the ICC World Twenty20 on March 19 in Dharamshala, Himachal Pradesh. Vijay Singh Mankotia, the Himachal Pradesh Ex-Servicemen League chairman, also recently requested the BCCI to shift the venue of the proposed match as a respect to the families of martyrs who died in the Pathankot Airbase attack in the beginning of January this year.