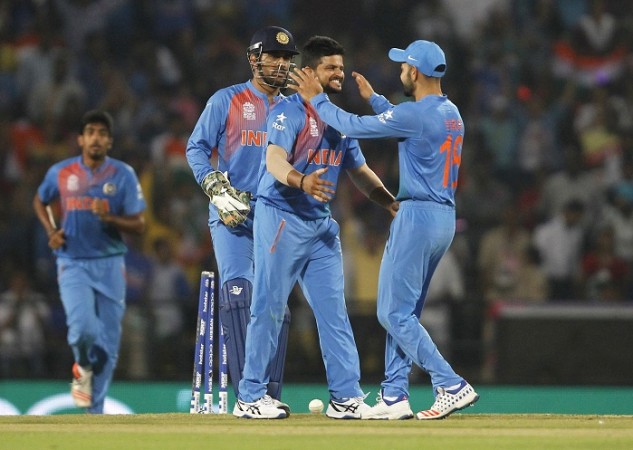 MS Dhoni is not someone who will make radical changes to his side after his team suffers a defeat. He believes in the players in his team and likes to play with the same combination.
India have moved on from that 47-run-drubbing in the hands of Kane Williamson's New Zealand in the opening match of the ICC World T20 2016. Now, it is time for the India vs Pakistan game, which is evidently one of the most awaited clashes of the series.
India have put themselves into a must-win situation after their loss in the first match of Group 2 against the Kiwis. They will have to win against Pakistan in order to stay in the run.
India vs Pakistan is that match when the Indian players reach a whole new level of brilliance and Dhoni & co. need to repeat that again, Saturday.
Looking at the Eden Gardens wicket and the outcome of the last two matches, it can be said that the seamers are not going to get much assistance from this pitch but the slower bowlers can rule the roost.
Click here for the schedule of India vs Pakistan.
India have no issues with their bowling as they were quite outstanding against New Zealand. The Indian bowling attack restricted the Black Caps to a meagre total of 126. But may be adding a spinner who can swing the bat as well might just help Team India's cause against Pakistan.
When it comes to playing at the Eden Gardens, one name that always pops up in the minds of the fans is Harbhajan Singh. "The Turbanator," as he is popularly known, has wonderful memories in this stadium and the fans love him.
Singh has also been instrumental in beating Pakistan in the previous World Cups, be it T20 or the 50-over one. The veteran off-spinner's experience will also be a crucial factor as he knows what it takes to play in such high-voltage games. But can we depend on Singh with the bat as well, if needed?
His inclusion might just weaken our batting lineup, which was rattled in the opening match of the ICC World T20 against Pakistan. Hardik Pandya has been one of the highest wickets takers for India in T20 cricket in 2016 and he also has the ability to play those brisk cameos towards the back end of the innings. But will he be the right choice against Pakistan, when India faces a must-win situation?
Click here to know how fans are gutted about the ticket selling process for the India vs Pakistan match.
Dhoni may be put into a spot of bother in the team meeting ahead of the much-awaited encounter between India and Pakistan at the Eden Gardens, Saturday. Harbhajan Singh or Hardik Pandya -- the India captain has got some homework to do. For us, we can only wait and watch.