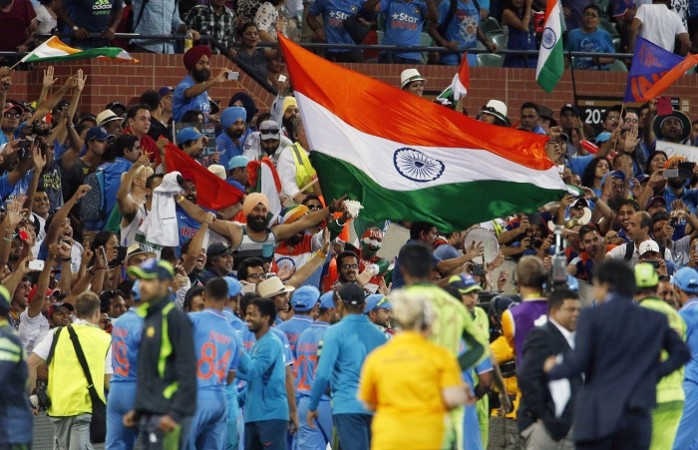 An India vs Pakistan ICC World T20 match at the Eden Gardens -- need we say more about it? Frenzied 65,000 fans at the iconic stadium in Kolkata, Saturday, will take the mercury level to a whole new height, when cricket's arguably greatest arch-rivals, India and Pakistan, will take the field.
But this city has a lot more cricket fans than that of the new capacity of the stadium. Previously, the Eden Gardens could fit in 1,00,000 fans at once but in order to give a better look to the stadium, 35,000 seats have been removed.
The fans of the international game are begging for tickets in the City of Joy. They are not at all happy with the lottery system, through which the ICC has been selling tickets for the World T20 2016.
It is also learnt that the few who have managed to get tickets for this high-voltage encounter are re-selling them for sky-rocketing prices. A Rs 500 ticket is being sold at Rs 20,000. Such is the craze and demand!
For this particular match, the tickets that were sold for a limited period from the Mohammedan Sporting Club counter, were priced at Rs 1500, Rs 1000 and Rs 500. Others, who managed to get the payment link after registering for the lottery in an online ticket selling portal, bought the tickets at a much higher rates.
The people who bought tickets for the game in Dharamshala were offered a refund or were given an option to come and watch the game with the same ticket at the Eden Gardens.
The fans in the city have been left gutted with the way tickets were sold. It is being rumoured that such is the demand for tickets for the India vs Pakistan game that several Eden Gardens could be packed to capacity.
"Much to the disappointment of cricket fanatics like me, tickets are being sold through an online portal. The online lottery system is not a great idea when thousands of cricket lovers want to witness such a crucial match," Ritwika Talukdar, a singer and a theatre actress in the city, told International Business Times India.
"I find it very difficult for the masses to purchase tickets online that too based on lottery where you just have to be lucky enough to able to to buy tickets. Also, hearsays of tickets being sold in black are doing the rounds. I do not support this idea either.
"ICC should have kept it simple like always where people can purchase tickets manually. Since Saturday is not very far, I am keeping my fingers crossed and hope to be lucky enough to witness an epic battle between India and Pakistan."
The cricket fanatics in Kolkata are extremely excited about this match, which will be held at the mecca of Indian cricket, Saturday.
But most of them who did not manage to get hold of a ticket for the much-anticipated India vs Pakistan match at the Eden Gardens have expressed their sorrow.
"A match between India Pakistan always gives an adrenaline rush even to not-so-crazy cricket fan. And double is the excitement when it is being played in one's home ground! For me watching India playing Pakistan live will be like a life time experience!" Trisha Bhowmick, a student told IBTimes India.
"But sadly getting a pass has been one of the most difficult task for this match. I have always seen my father getting plenty of free passes for any match in Eden but for this one - even with money it's being impossible to buy a ticket!
"The demand is soo high even the counters are left with no tickets and sadly all are being sold on black."