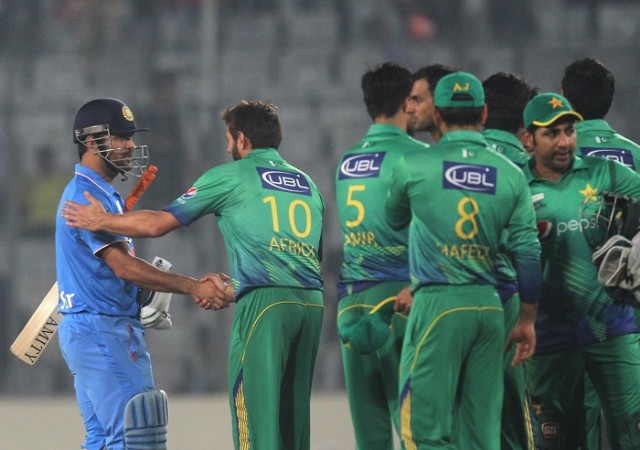 The Feroz Shah Kotla Stadium in New Delhi is being lined up as the backup venue if the Pakistani security team, in Dharamsala to guage security arrangements, do not give the green signal to stage the India vs Pakistan match at the HPCA Stadium.
"Keeping in mind the security of Pakistan team, Delhi has been considered as the safest bet. But we need to wait for their decision," a BCCI official was quoted as saying by DNA.
"The team will be there in Dharamsala for two-three days. That's all the BCCI or HPCA (Himachal Pradesh Cricket Association) know till now. They want to do everything secretively."
The two archrivals are scheduled to play each other in an ICC World T20 2016 Super 10 match on March 19. But the future of the much-anticipated game still hangs in the balance.
Surprisingly, there is a cloud over Feroz Shah Kotla also hosting matches in the ICC World T20, as they were yet to get a completion certificate from the South Delhi Municipal Corporation (SDMC). however, on Monday, they received a clearance from the SDMC, which have brightened the chances of the Kotla being able to host at least the 10 matches which was previously allotted to it.
However, the final decision on whether Kotla can host matches or not will only come after the Supreme Court's decision on DDCA's Special Leave Petition challenging the Archaeological Survey of India's (ASI) orders of demolishing the Old Club House structure.
If the India vs Pakistan game is moved from Dharamsala and Kotla fails to gain clearance by then, it will be a serious issue for both BCCI and ICC to find an alternative venue for the high-voltage encounter.
According to reports, Kolkata and Mohali were also being considered by the BCCI.
Earlier on Monday, when ICC chief executive David Richardson spoke to the media in New Delhi ahead of the start of the ICC World T20 2016, he assured everyone of Pakistan's participation in the tournament. The ICC and BCCI have taken all necessary steps to ensure there would be no hitch, claimed Richardson.
"We have got a contingency plan in place. There are various options available. But it wouldn't be appropriate for us to discuss it now. There are certain individuals who try to promote their own interest," Richardson said.
"From the ICC's perspective, if the politicians and outside stakeholders are looking for various breakdowns and creating level of mistrust, it's not a good thing.
"The ICC is communicating with both the BCCI and the PCB on urgent basis. Pakistan is not going to pull out of the tournament."